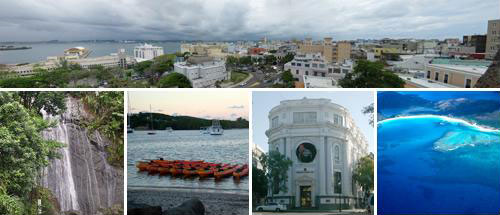 If you are like me, you like to plan ahead, especially if you're a visiting a place for the very first time. Here in Puerto Rico there are a lot of things to see and do especially if you are willing to explore beyond the San Juan metro area, and for those visiting the island for the first time, deciding what are the 'must sees' can be a little overwhelming.

To help you in your decision making progress here are my 5 Essential Day Trips for first time visitors to Puerto Rico. Obviously, unless you are here for a week or more, you won't be able to fit all of these in to your trip, but you should definitely make plans to visit a few of them; you can always see the rest on your next trip.
Old San Juan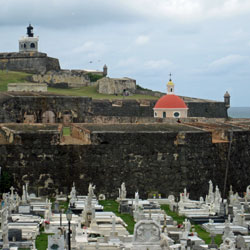 Old San Juan is my NUMBER 1 MUST SEE for any one visiting Puerto Rico for the first time. The city dominated by its two forts and city walls dates back to the early 15th century and has been classified as a World Heritage Site by UNESCO. You can easily spend a day walking around the narrow cobbled streets exploring:
El Morro Fort located at the entrance to San Juan Bay. This is my 'go to' fort when I visit Old San Juan. I love the location, the views of the bay and it makes for great kite flying.
San Juan Cemetery located next to El Morro Fort where will find the resting place for several famous Puerto Ricans.
San Cristobal Fort is the largest Spanish fortification in the New World and like El Morro it offers some great views of Old San Juan and the surrounding areas.
Numerous museums including; African Heritage Museum. Galeria Nacional and Museo Casa Blanca to name a few
Take a break at one of the many picturesque plazas located around Old San Juan. Here you can people watch, grab a refreshment and recharge your batteries for further exploration of the city.
Stroll along Paseo de La Princesa, a promenade that follows beside the city walls towards the San Juan gate. On weekends you will find local artisan stalls and musicians along the promenade.
Stroll along Paseo El Morro for more views of the entrance to San Juan Bay and the imposing El Morro Fort above. The walk is currently a dead end but there are plans to extend it along the north side of El Morro with the possibility of a new entrance being added to the fort. So at the moment you have to retrace your steps back to the San Juan Gate, but it is well worth the walk.
Numerous restaurants and bars to satisfy all tastes and price ranges, including excellent street food from roadside vendors.
Other ways to see the city include the FREE Old San Juan trolley, Horse and Carriage rides or try the Old San Juan Segway tour.
El Yunque Rain Forest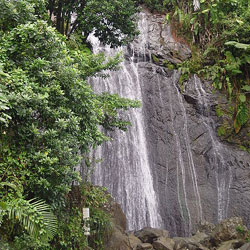 Located 45 minutes east of San Juan on Route 3, El Yunque Rain Forest is an easy drive if you have a rental car or check with your hotel for local tour operators.
El Yunque is the ONLY rainforest that comes under the United States Forest Services and is located on slopes of the Sierra de Luquillo Mountains. El Toro is the highest mountain peak in the forest at 3,537ft (1065 meters) above sea level.
Within El Yunque there are several well marked trails for all levels of fitness as well as a visitor's center 'El Portal Rain Forest Center' that provides information and displays about El Yunque. One of the many highlights of the forest are the waterfalls that can be found along some of the trails that make for a great photo opportunity and also the chance to cool off.
The main trails in El Yunque include: Big Tree Trail, La Mina Trail, Caimitilla Trail, Bano de Oro Trail, El Yunque Trail and Mt. Britton Trail. For the more adventurous out there, you might want to check out the trails south side of El Yunque with a tour guide.
If you have a rental car then consider making a stop at the Luquillo Kiosks just a few miles past the El Yunque turn off on Route 3. Here you will find small kiosks serving a variety of local Puerto Rican food and various international themed kiosks too. You could also spend some time relaxing at Luquillo beach.
Bioluminescent Bays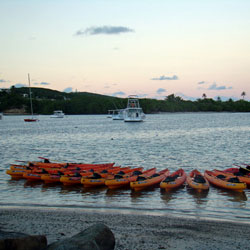 Puerto Rico is fortunate to have 3 Bioluminescent Bays accessible to visitors to the island; Laguna Grande near Fajardo, Mosquito Bay on Vieques and La Parguera on the south west coast. If the moon phase is right for your visit to Puerto Rico then a Bio-Bay tour SHOULD be on your 'to-do' list. The bays are illuminated by the tiny single-celled bioluminescent dinoflagellates emit a bluish light when agitated.
The ONLY way to see the bio-bays is with an organized tour. There are many bio-bay tour operators in Puerto Rico who offer tours in kayaks or electric boats depending on how you want to see the bays, with some of the operators will also offer transport as part of the package.
One thing to take into consideration when choosing a tour is the fact that currently swimming is ONLY allowed in Mosquito Bay over on Vieques (which can be done as an evening boat trip from Fajardo). For the Laguna Grande and La Parguera bays you will have to enjoy just placing your hands in the bay. For a list of tour operators see here
Ponce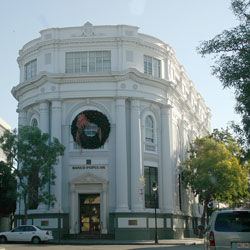 Ponce located on the south side (Caribbean side) of the island is Puerto Rico's second largest city. From San Juan it is a straightforward 1 -1.5 hour drive south along Highway 52 with spectacular mountain and sea views. Highlights for a visit to Ponce include:
Ponce Cathedral.
Parque de Bombas is one of the most photographed buildings in Ponce. The old fire house is now a museum.
Plaza Las Delicias is the main city square.
Casa Alcaldía, Ponce City Hall.
Museo de Arte de Ponce is a great place to visit unfortunately as of writing this article the museum is closed for renovations.
Castillo Serralles is a 1930's mansion that sits above the north of the city. The mansion highlights the history sugar cane and rum industries of the area
Centro Ceremonial Indígena de Tibes. The ceremonial grounds that were first discovered in 1975 is is the oldest Antillean Indian ceremonial and sporting complex discovered in Puerto Rico
Hacienda Buena Vista a renovated coffee plantation.
Paseo Tablado La Guancha close to the marina that features food kiosks and is a popular spot with locals on weekend.
Culebra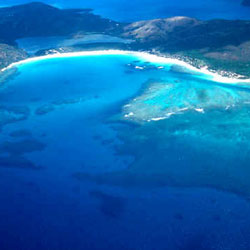 Culebra is the day trip destination if you are looking for a day at one of the world's top beaches. There are many small beaches on Culebra where you can spend the day, but Flamenco Beach is the one that gets talked about the most. Set within a protective cove that provides calm waters that are great for snorkeling or just enjoying the sea and san, the 1.5 mile Blue Flag beach is a must stop on a visit to Culebra
There are two choices for getting to Culebra: You can either fly (from San Juan or Ceiba) or take the Culebra ferry from Fajardo. If you have a car and want to save money then the 1.5 hour ferry trip would be your best option, with boats leaving Fajardo at 9am and returning from Culebra at 5pm.
Once on Culebra you will find local taxis that will take you to Flamenco Beach and various spots around the island and then just arrange to have them pick you up later in the day. There are also local car rental companies if you would prefer to explore the island and scuba and snorkel tour operators, if you would prefer exploring the ocean.
These are just 5 potential days trips that I feel are 'must sees' for first time visitors to Puerto Rico. They are all easily accessible from San Juan and reasonably accessible from other areas of the island (though the Culebra trip would be pushing it a bit from the west coast).
Hopefully you will have the chance to experience a few of them while you are here and then catch the rest on your next trip.
Do you have any other suggestions? What are your must sees for FIRST TIME Visitors? Add them to the comments below.
Photo resource using creative commons: wiki (El Yunque), Adigupta (laguna grande), Chispy2 (Ponce) and blucolt (Flamenco Beach)