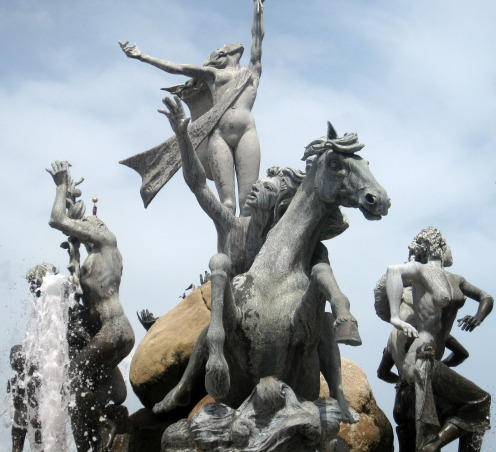 Paseo de La Princesa promenade is one of my favorite spots in Old San Juan and holds a special place in my heart as this is the place where I proposed to my wife several years ago.

Paseo de la Preincesa is located on the south side of Old San Juan near Plaza de Hostos and Plaza Darcenas and just along from where the cruise ships dock (as a port of call). If you are driving into Old San Juan, head for either the multi-storey car parks on Calle Recinto Sur or the open air car park that is adjacent to Paseo La Princesa (this is the car park I tend to use).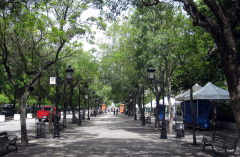 Paseo de La Princesa was originally built in 1853 and over the past couple of years has been faithfully restored to become a great place to walk or people watch. The tree lined promenade provides plenty of shade and you will usually find local street vendors and artisan stalls as you walk along the promenade. Towering above you to your right are the impressive fortification walls of Old San Juan and to your left is San Juan Bay.
As well as food vendors and artisans there is a small open air café; Café La Princesa that is set against the walls of the city. On certain nights of the week the café offers live music.
Thursday evening: Blues and Fink
Friday evening: Jazz
Saturday evening: Jazz
Sunday afternoon: Salsa
Sunday evening: Local trio performs
A little further along you will pass the headquarters of the Puerto Rico Tourism Company. This building dates back to 1837, when it was used as a prison and was known simply as La Princesa. Today as well as housing the Puerto Rico Tourism Company, you can also see exhibits of Puerto Rican art.
At the end of the main Paseo de la Princesa promenade you will find the magnificent Raices Fountain. This fountain was designed by Spanish artist Luis Sanguino and depicts the rich cultural diversity and heritage of Puerto Rico through the images of Amerindian, African, and Spanish people.
From the fountain you can look back along Paseo de la Princesa, across the San Juan Bay and also across to Isla de Cabras at the entrance to San Juan Bay.
From Raices Fountain continue along the much narrower path that continues to follow the walls of the city and the San Juan Bay. This path takes you to the San Juan Gate, where you can head into Old San Juan.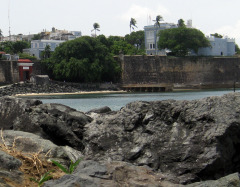 Note: If you are feeling energetic you can make a slight detour at this point and continue along the path that borders the bay and the city walls. This part of the path is known as Paseo El Morro and will take you along the bay towards El Morro Fort. It also provides you with great views of La Fortaleza (the Governors Mansion) as well as Isla de Cabras. Unfortunately at the moment, this path leads to a dead end and so you will have to return to the San Juan Gate in order to enter the city.
Once through the large and impressive gate, just head up the street where you will find the San Juan Cathedral and the Hotel El Convento.
Paseo de La Princesa is a great place to take photographs and also enjoy some local Puerto Rican foods from the street vendors. To quench your thirst try a 'piragua', a shaved-ice topped with your choice of flavoring, or a virgin Pina Colada. If you are feeling hungry then try alcapurria, Bacalito or Empanadilla's.
Do you have a favorite place in Old San Juan? Why not share it in the comments section below
Where: Paseo de La Princesa
When: any time
Highlights: Tree lined promenade, Raices Fountain, San Juan Gate, Great Views
Map It: Paseo de La Princesa