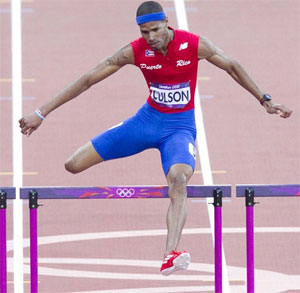 Mark the day, August 6, 2012; the day Javier Culson won Puerto Rico's very FIRST Track & Field Olympic Medal.
At 3:45pm the island of Puerto Rico held its collective breath as Javier Culson lined up for the final of the Men's 400m Hurdle at the 2012 London Olympics.
In a storming race where the top two runners ran season and personal bests, Javier Culson won bronze with a time of 48.10 sec, behind second place Michael Tinsley (47.91 sec) and gold medal winner Felix Sanchez (47.63 sec).
He may not have won the gold but Javier Culson still made history by winning the bronze and becoming Puerto Rico's FIRST ever track and field athlete to win an Olympic medal.
It is Puerto Rico's FIRST medal of the 2012 London Olympics and the FIRST time they have ever won a NON boxing medal, since they began competing at the 1948 London Olympic Games. The islands previous 6 Olympic medals were all won in Boxing.
So today Javier Culson joins the ranks of Puerto Rico's Olympic winners with his bronze in the Mens 400m Hurdle
Puerto Rico's Olympic Medal Winners:
London 2012, Javier Culson, BRONZE, Men's 400m Hurdle
Atlanta 1996, Daniel Santos, BRONZE, Boxing
Barcelona 1992, Aníbal Acevedo, BRONZE, Boxing
Los Angeles 1984, Arístides González, BRONZE, Boxing
Los Angeles 1984, Luis Ortiz, SILVER, Boxing
Montreal 1978, Orlando Maldonado, BRONZE, Boxing
London 1948, Juan Venegas, BRONZE, Boxing
Congratulations Javier for bringing home Puerto Rico's first medal of the 2012 London Olympics.
LET THE PARTY BEGIN!!!
Photo: El Nuevo Dia