If you only have a couple of days to spend in Puerto Rico, you want to make the most of your time here. With just 48 hours in San Juan, what should you do?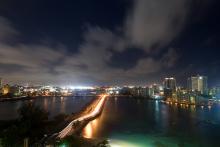 The following suggestions are based on arriving in San Juan, early Friday evening and departing around the same time on Sunday. This will give you around 48 hours to sample the sights, sounds and tastes of Puerto Rico.
For a two night stay, there are several hotels in the Condado and Isla Verde area that overlook the beach, with several more close by. Check out hotels such as:
Condado Plaza Hotel, 787-721-1000
La Concha Hotel, 787 721 8500
The Ritz-Carlton, 787-253-1700
San Juan Marriott Resort & Stellaris Casino, 787-722-7000
El San Juan Hotel and Casino, 787-791-1000
The Intercontinental, 787-791-6100

Note: You could also try sites like priceline.com and hotwire.com if you are looking for a deal on a hotel in San Juan. The only downside to these sites is the fact that you will not know the hotels name until you have made the booking.
Getting to your hotel
After landing at the San Juan airport, you will find a taxi stand immediately outside the terminal building. Here you will obtain a ticket with your destination and the price of the trip. Taxi rates in the various tourist zones are fixed based on your starting and ending points.
If you are staying in Isla Verde a taxi will cost $10 and for Condado $15. You need to add to this price the following for your luggage. $0.50 per each piece of luggage, excluding hand pieces, and an additional charge of $1.00 per piece, after three pieces
Friday Evening
After checking in to your room, unpack, change and head to one of the many great restaurants located in Isla Verde / Condado. Suggestions include:
Miro's (if you love seafood), 787-723-9593
Ajili Mojili (Puerto Rican), 787-725-9195
Ropa Vieja Grill (Cuban / Puerto Rican)
Metropol (Cuban / Puerto Rican)
Pamela's (Caribbean – possible to dine on the beach), 787-726-5010
Tangerine (Latin American), 787-728-3610
If you are looking to extend the evening then San Juan is the place to be. You could head to one of the larger hotels where you will find live music and dancing as well as casinos or head to one of San Juan's many hotpots:
Brava at the El San Juan, 787-791-2781
Milk Disco and Lounge, 787-405-2475
Mijani, 787-722-3522
Blend, 787-977-7777
are just a few options.
Saturday
If you are able to get up early, pick up a rental car and head to the El Yunque rainforest. This is an easy 45 minute drive (either take route 66 toll road or hwy 3), and it is better to get there early so that you can find a decent parking spot and hit the trails before the crowds arrive.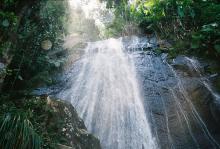 El Yunque has several trails for all fitness levels and the La Mina and Big Tree trails have the added bonus of an opportunity to swim by a waterfall.
For lunch head to Luquillo beach and have lunch at one of the roadside kiosks there. Here you will find tasty local food at great prices. The beach at Luquillo is one of the best on the mainland.
For the evening either head back to San Juan or consider extending the day by driving further east to Fajardo and taking a trip to the Bio Bay in Fajardo or a night time cruise to the Vieques Bio Bay.
If you head back to San Juan for the evening, consider heading into Old San Juan for dinner.
Take a taxi from your hotel and ask to be dropped off close to the La Casita (tourist office), which is located close to the cruise ship piers. Usually on a weekend, this area is busy with local musicians and artisan stalls and is a great place to start your evening in Old San Juan. For dinner consider:
Raices(Puerto Rican), 787-289-2121
Parrot Club (Caribbean), 787-725-7370
Dragonfly (Asian Mix), 787-977-3886
Tantra (Asian mix), 787-977-8141
Al Dente (Italian), 787-723-7303
Amadeus (Caribbean), 787-722-8635
Carli's. (Caribbean, International), 787-725-4927
Sunday
Head into Old San Juan and store your luggage at the Barrachina Restaurant (close to the cruise ship piers). After storing your luggage head up to La Bombonera located on Calle San Francisco for a typical Puerto Rican breakfast. The restaurant is one of the oldest in Old San Juan and is extremely popular.
There are many attractions in Old San Juan depending on what you are interested in. Some of the major attractions are: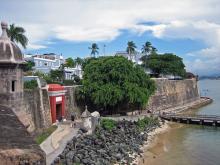 After breakfast head up to El Morro fort and take a tour of this impressive fort. Further along from El Morro is the fort San Cristobel which is also worth visiting if you have time. After the forts head back into Old San Juan and visit the San Juan Cathedral, the Governors Mansion and gardens, Christo Chapel and the San Juan Cathedral. Grab lunch at the tapas bar in the hotel El Convento, which is located just opposite the cathedral.
If you still have time, head to the San Juan Gate and take a stroll along the Paseo La Princesa. This promenade will take you back towards the Barrachina Restaurant, where you can pick up your luggage before heading back to the airport.
Hopefully, this has given you a few ideas and if you have been to Puerto Rico before, then you could always head to:
Ponce on the south side of the island
Take a day trip to Culebra or Vieques
Check out the Arecibo Observatory and the Camay Caves if Clara cave has been re-opened.
Photo resource: mannequin, anaivette and oquendo
Related Information:
Restaurants in San Juan
Driving in Puerto Rico