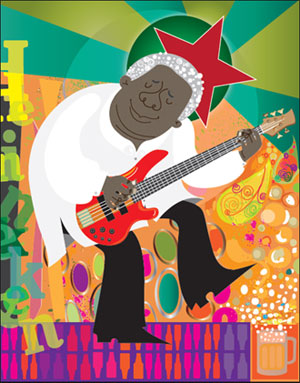 The 22nd edition of the Puerto Rico Heineken JazzFest will be held from March 29 – April 1 at the Tito Puente Amphitheater.
Usually the event is held at the beginning of summer, but organizers have brought it forward to the end of March with the hope of escaping potential bad weather due to the start of the rainy season in Puerto Rico.
Hopefully this years event will be rain free.
The change in date does not change the fact that the Puerto Rico Heineken JazzFest is one of the premiere jazz festivals in the region and the 2012 festival is dedicated to bassist Abraham Laboriel.
Laboriel has been a regular at the festival and has recorded with a host of artists; Quincy Jones, Lionel Richie, Ray Charles, Henry Mancini, Burt Bacharach, Ruben Blades, Julio Iglesias to name a few. You will also find him playing on movie soundtracks such as; Tootsie, Forrest Gump and Ratatouille.
Local San Juan artist Nívea Ortiz Montañez was chosen from hundreds of entries to be this years featured artwork.
2012 Puerto Rico Heineken JazzFest Lineup
Thursday, March 29
8:00 pm (TBD)
9:30 pm Michel Camilo "Mano a Mano" with Giovanni Hidalgo and Charles Flores
Friday, March 30
8:00 pm Agustin Barreto – Fusion Quartet
9:30 pm Paloma Ariadne – Flamenco Jazz
11:00 pm Dee Dee Bridgewater: To Billie with Love "A Celebration of Lady Day"
Saturday, March 31
8:00 pm Jose Negroni Trio featuring Ed Calle
9:30 pm Open Hands with Abraham Laboriel
11:00 pm Cubano Be Cubano Bop: Poncho Sanchez Latin Jazz Band with Christian Scott
Sunday, April 1
5pm Puerto Rico Berklee Student Band
6pm Mario Parmesan Trio Tribute to Piazzolla, Tango and Jazz
7:30 pm Paco de Lucia
Prices:
March 29 – March 30 $ 30.00 – $ 35.00 March 31 – April 1 $ 35.00 – $ 45.00 (tax to be added)
Jazz Pass – Access to all 4 days and allows entrance to the Tito Puente Amphitheater ten minutes in advance, $ 125.00 (tax to be added)
Tickets available at Ticketpop and various outlets throughout Puerto Rico
Want to sample the Puerto Rico Heineken JazzFest, then check out the video below of last year's festival by noto1393
What: 2012 Puerto Rico Heineken JazzFest
Where: Tito Puente Amphitheater, San Juan
When: March 30 – April 1