For those of you who have not visited El Morro Fort on a weekend (especially a Sunday) kite flying at El Morro is extremely popular with families; with children, parents and grandparents all flying kites. It can get so busy that it becomes quite a challenge just to walk across the esplanade with kites flying high and low all around.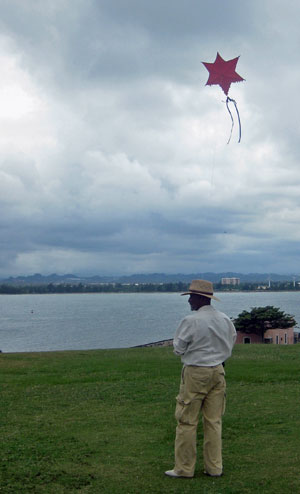 The location of El Morro Fort at the entrance to San Juan Bay makes it an ideal spot for kite flying and the esplanade in front of the fort is a great spot to watch or even fly a kite.
On the 27th February, the National Parks Services will be turning the kite numbers up a notch with the 7th Annual San Juan Kite Festival (Festival Chirangas) at El Morro Fort.
The Festival runs from 11am – 4pm on Sunday February 27 and there will be kite flying contests, demonstrations in the art of kite making and flying, as well as the chance to learn more about the National Historic Sites of San Juan and the various battles that have taken place there. It should be a fun packed day.
Don't worry if you left your kite at home, you should not have any problems picking up an inexpensive kite from one of the street vendors or just go along and enjoy watching the professionals and beginners flying their kites.
Tip: if you plan to go along to just watch the kite flying festival, you will have a great vantage spot if you head into El Morro Fort ($3 entrance fee) and watch from the forts upper levels. Plus you get to tour this magnificent fort
So When was the last time you flew a KITE; days, weeks, years, decades?
If you are in Puerto Rico on Sunday February 27, why not head over to Old San Juan and enjoy the 7th Annual San Juan Kite Festival…
What: 7th Annual San Juan Kite Festival
Where: Esplanade in front of El Morro Fort, Old San Juan
When: Sunday, February 27, 2011, 11am – 4pm
Cost: FREE