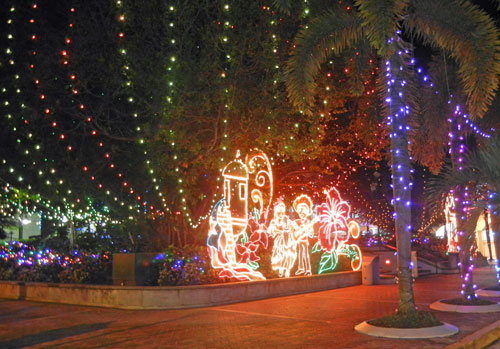 Christmas is that time of year when you deck the halls with boughs of holly, pin up the mistletoe, fix those Christmas light bulbs and try to outdo the neighbors with your Christmas Light Show.
OK, enough with the clichés, Christmas in Puerto Rico is a magical time of year.
For those of you heading here for Christmas or considering spending Christmas here, then check out our Quick Guide to Christmas in Puerto Rico.
It's Long
Starts just after Thanksgiving and ends around the middle of January
It's Warm
It averages around 83F during the day dropping to a cooler 72F at night. If you are looking for cooler temperatures then head to the central region of the island.
We have Coquito
Puerto Rico's unofficial Christmas drink, coquito is made with rum, coconut milk, condensed and evaporated milk. You can find it in local supermarkets or why not make your own with this simple to make Coquito Recipe
We have Awesome Christmas Foods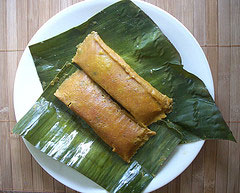 Pasteles – Typically made from mashed green bananas / plantains (or sometimes yucca), which is spread out a banana leaf and then filled with a meat filing. The banana leaf is then wrapped creating a Pastel which can then be cooked in boiling water
Lechon – popular all year round but even more so at Christmas. Whole roasted pig cooked slowly for hours on a spit. Families will cook their own Lechon at Christmas or head to popular spots like Guavate to enjoy this traditional Puerto Rican dish
Morcilla – Puerto Rico's version of blood sausage
Tembleque – delicious, creamy, coconut pudding; a must try dessert
Christmas Dinner usually served on Nochebuena (Christmas Eve) – Typically will consist of roast pork, Arroz con Gandules (Rice with Pigeon Peas), plátanos and pasteles. Desserts will include: arroz con dulce, tembleque and flan. Oh, and don't forget the odd glass or two of Coquito
We have La Feria
Typically located in the Hiram Bithorn Stadium car park, the biggest amusement park in the Caribbean runs from just before Thanksgiving to early January
Of Course we have Christmas Lights
Cities and towns around the island light up with Christmas Lights, Nativity Displays and more.
Christmas Carols? We Have Parrandas
Parrandas are similar to Carol Singing. Typically a small group of friends will show up at a friend's house to surprise them with some Christmas music and songs. They then enter the house to enjoy some refreshments and more music and dance. Parrandas can last until the early hours of the morning as the group grows and moves on to other friend's houses
We have Misa de Aguinaldo
Churches celebrate a dawn (6am) Misa de Aguinaldo service between December 15 – 24 with the singing of aguinaldos; Puerto Rican Christmas Carols.
We Celebrate Nochebuena (Christmas Eve)
Forget Christmas Day Dinner; Nochebuena (Christmas Eve) is the time when Puerto Ricans share their Christmas Dinner. Families gather to enjoy a typical Puerto Rican Christmas meal before attending Midnight Mass; which at some churches includes a live Nativity Scene.
Christmas Day; Check
Just like anywhere in the world it's a time for families to gather and spend time together.
We have the Magical Three Kings Day (Los Tres Reyes Magos), January 6
If you are new to Puerto Rico then you need to know that Los Tres Reyes Magos (Three Kings Day) is a HUGELY IMPORTANT day for Puerto Rican Families. Children enjoy preparing for the visit of the Three Kings, by leaving a box of straw near their bed for the camels, hoping that the Three Kings will leave a small gift behind. During the day, families will gather to celebrate the Los Tres Reyes Magos and spend time together.
Some Towns around the island will have parades, the biggest being in Juana Diaz; the home of the Three Kings Museum.
New Years Eve; Most Definitely
Just like anywhere, New Years Eve is BIG in Puerto Rico. Watch out for celebrations around the Condado Lagoon with music, food, artisans and of course FIREWORKS.
Don't forget we have the San Sebastian Street Festival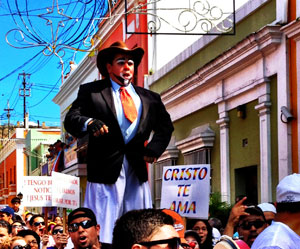 The San Sebastian Street Festival in Old San Juan is BIG and typically takes place around the third weekend in January (Thursday – Sunday). The event features parades, music, food and artisans. It is one of the biggest festivals here in Puerto Rico.
The main parade takes place early evening on the first day and features music and vejigantes (clown-like characters, wearing brightly colored masks), the gigantes, and the cabezudos (large comical, paper mâché heads that typically depict people from Puerto Rican history).
What's your favorite part of Christmas in Puerto Rico?
Photo Resource using Creative Commons Licenses:
Pasteles – Wikipedia