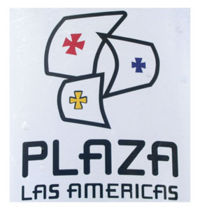 If you arrive in Puerto Rico and find that the weather is not cooperating there are still plenty of things to do. One of my top suggestions is to take a trip to Plaza Las Americas (especially if you need to keep children occupied – there is a 32 lane Bowling Alley and a large fast food court):
Plaza Las Americas is the largest shopping mall in the Caribbean and one of the largest in southeastern United States. It is located in Hato Rey, approximately 10-15mins from San Juan.
The logo represents the three ships (the Niña, the Pinta, and the Santa Maria) sailed by Christopher Columbus's during his 1942 voyage

Construction phases:
Construction began in 1967 and the original one-storey mall with some 800,000 square foot of retail space, opened to the public on April 12, 1968. Shops included JC Penny, Kress and Pueblo Supermarket
Between 1979 and 1980, an expansion project added a second and third floor to the mall and the addition of Sears
During the 1990s, a second expansion added much needed floor space, including: more parking spaces, and a 146,000 square foot (14,000 m²) office building.
In 2000 there was a third expansion which added around 700,000 square feet of retail space including: a new cinema. A two-storey borders, a four-storey JC Penny and a three-storey Macy's (the first outside the USA). On land outside the mall, Rooms-to-Go, Office Max and Kmart were added. The interior of the mall was also renovated.
Currently the mall is anchored by Sears, JC Penny and Macy's that house 329,000, 350,000 and 255,000 square feet of retail space, respectively. Other notable retailers include: Borders, Old Navy, Banana Republic, Clark Shoes, Bose, Sony Style, Brooks Brothers, Zara, Gap and Gap Kids Agatha Ruiz De La Prada (children's wear), Anne Taylor and many more.
In addition to the fixed stores, Plaza also hosts many events throughout the year including: car shows, local musicians and large local artisan fairs. Just recently there was a large artisan fair that show cased many of the local artists from around the island. The mall was extremely busy and filled with local music, art and crafts; it was very impressive.
If you are feeling hungry, there are plenty of restaurants and fast-food choices. The majority of the fast food chains can be found at the La Teraza Food Court which is on the third-floor close to Sears and also on the first-floor close to the Caribbean cinema. Chains include the regulars (Burger King, Taco Bell etc…) plus some more local offerings. Larger sit-down restaurants such as: Margaritas, Tierra del Fuego can be found on the third-floor close to JC Penny and Macaroni Grill, Cabaña Las Lilas are located close to Caribbean Cinemas / Borders.
The mall not only has a great array of shopping, but several impressive large art sculptures designed by Puerto Rican artists Myrna Báez, Nick Quijano y Marta Pérez García and Antonio Martorell. These sculptures and fountains represent Puerto Rico's history, culture, and natural features:

Grand Central Atrium – the first meeting of Christopher Columbus with the local natives (tainos) in Puerto Rico in 1493.
JC Penney entrance – El Yunque, as well as the island's other forests, rivers and waterfalls.
Between the JC Penney and Macy's entrances – Puerto Rico's night sky and the impact it had on Taino beliefs (astrology) and early Spanish navigation.
Macy's entrance – Puerto Rico's marine life, including many of Puerto Rico's endangered species, such as the manatee and the sea turtle.
Old Navy entrance – Puerto Rico's flora, including palm trees seen all across the island's beaches
Sears entrance – Puerto Rico's fauna and trees, symbolized by a large tree and a birds flying nearby.
Grand Central Atrium (third floor) – Puerto Rico's gastronomy, symbolized by one of the most popular dishes among Puerto Ricans: white rice with beans and a fried egg.
Plaza Las Americas is certainly worth a visit (especially if the weather is not cooperating). As well as the various stores, the mall offers a multi-screen cinema and Galaxy Lanes, a 35,000 square foot bowling alley that includes: 32 bowling lanes, an internet chat room, two restaurants, dance floor, 2 bars, and two VIP rooms.
The interior of the mall always feels bright and spacious and even though the car parks become full (especially on a weekend), the mall never really feels busy, unless of course it is the Christmas period. So if you are at a loose end, check Plaza out.
Note: on weekends it can be extremely difficult to find a parking space in the multi-storey car parks; just be patient.