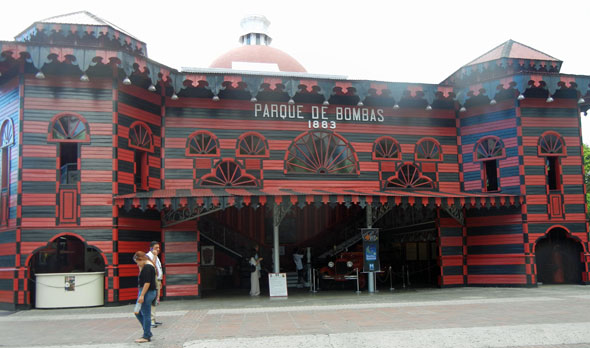 Parque de Bombas is one of the most recognized buildings in Ponce and is probably up there with El Morro Fort when it comes to landmarks of Puerto Rico. The building was designed and built for the 1882 Exhibition Trade Fair and by 1885 it had become known as Ponce's official fire station. Today, Parque de Bombas serves as a museum as well as the local tourism center for Ponce.
The building is located at Plaza Las Delicias (Ponce's Town Square) and is directly behind the Cathedral of Ponce. Influenced by Moorish and Victorian architecture of the times, the building consists of one main open space flanked by two towers. Originally the open space would have been used as the fires station garage with the 2 towers being used as living quarters for the firemen. Today it is painted in the recognizable horizontal red and black stripes taken from the colors of Ponce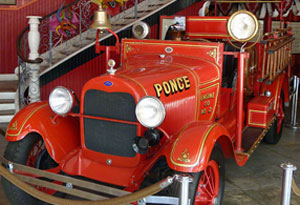 Parque de Bombas served Ponce ass the main fire station until 1990 when it was decommissioned.
Today, you will find exhibits of firefighting equipment and memorabilia from the fire statiosn distinguished history; including a painting honoring the seven firefighters and one civilian that helped to save Ponce during the fire of 1899.
And don't forget to check out the prized possession of Parque de Bombas; the vintage red fire engine that is parked on the first floor.
The building is an impressive landmark in Ponce and makes for a great photo opportunity.
While you are at Plaza Las Delicias, don't forget to check out Ponce Cathedral, Casa Alcaldia (City Hall), the near by Museo de la Masacre de Ponce and a short drive away Castillo Seralles.
What: Parque De Bombas
Where: Ponce
When: Mondays – Sundays 9am – 5pm