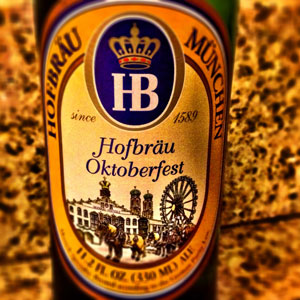 The good news; Oktoberfest 2014 is here.
Even better news there are several places where you can celebrate Oktoberfest in Puerto Rico.

Synonymous with Munich, huge beer tents, lederhosen, Schweinebraten, bratwursts, and copious amounts of great German Beer; Oktoberfest is an annual event celebrated around the world.
Here in Puerto Rico, the biggest Oktoberfest takes place at Casa Bavaria near Morovis, but that's not the only way to celebrate Oktoberfest.
So if you are looking to celebrate Oktoberfest in Puerto Rico; here are some options:
Casa Bavaria October 2 – 26, 2014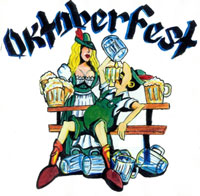 Casa Bavaria's Oktoberfest runs from October 2 – 26, 2014 (Fridays to Sunday) with live music and of course great German and local Beers.
Live music starts at 5pm Fridays, 1pm Saturdays and 12pm Sundays.
Casa Bavaria is a very popular restaurant located at 2,105 feet near Morovis, so expect it to be even more popular during Oktoberfest.
Location: Rd 155, Km 38.3 (GPS: 18.283815,-66.401)
You can check Casa Bavaria's full Oktoberfest Schedule of live music here
Aibonito Beer Garden Oktoberfest – October 19 2014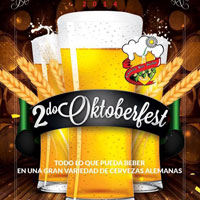 On a slightly smaller scale, the mountain town of Aibonito will be celebrating Oktoberfest at the Aibonito Beer Garden on Saturday October 18. This will be a tasting event with a great selection of beers.
If you can't make October 18, don't worry they will have German beers on draft throughout October…
The Abonito Beer Garden is a popular spot for artisan beers, so this should be a great place to celebrate Oktoberfest.
Location: PR7722, Km 0.3, Aibonito
You can get more details of the event here
Old Harbor Brewery Oktoberfest – October 2 – 12, 2014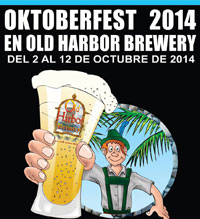 If you are looking for a place to celebrate Oktoberfest in Old San Juan, then head to the Old Harbor Brewery from October 2 – 12. This popular micro brewery will celebrate Oktoberest with live music on Thursdays – Sundays during their 2 week celebration.
Location: 202 Tizol St, Old San Juan (GPD 18.463989,-66.115375)
Keep an eye on their Facebook page for up to date information on Old Harbor Brewery's Oktoberfest
Shannan's Pub – October 25, 2014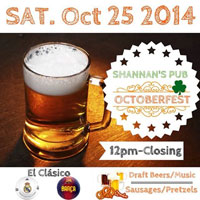 Shannan's Pub in Guaynabo, gets into the Oktoberfest celebrations on Saturday October 5. Doors open at 12 noon, when you will be able to check out their selection of German and local beers on draft and bottled along with sausages and pretzels.
Location: Calle Acuarela 98, Guaynabo (GPS 18.371322,-66.10839)
More info on their facebook page
Das Alpen Café Oktoberfest – October 4, 11, 18, 2014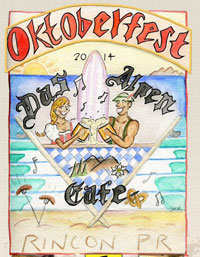 The Das Alpen Café in Rincon will be holding their 4th annual Oktoberfest on Saturdays October 4, 11 and 18, 2014.
Along with German draft beer, they will have bratwurts, pretzels, Jagermeister Shots and music by local artists.
Saturday Oct 4 – LOS HIJOS DE PUNTAS
Saturday Oct 11 – THE BARCODES
Saturday Oct 18 – CATHOUSES
Das Alpen Café is located in Rincón Plaza South on Rd 115
You can find out more details of their Oktoberfest here
Oktoberfest in la Bahia – October 25, 2014

The Bahia Urbana in Old San Juan will be holding its first Oktoberfest on Saturday October 25.
Along with great beer and food there will be live music from local artists: Yerba Bruja, Rumba Caliente, Iguana, Pedro Pratz Trio and Karas Nuevas.
Restaurants taking part in Oktoberfest in la Bahia include: Maestro Burger, Mangos, Pa Pical, City Dogs, Ficus, La Mala Vida, Tijuana's, Café 8 and La Atlántica
Tickets available at www.tcpr.com
West Beer Festival – October 24-26, 2014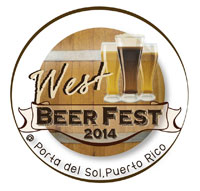 Not an official Oktoberfest event, but the West Beer Festival in Mayaguez on October 24-26 certainly sounds like a great way to celebrate beer.
The West Beer Festival takes place at Paseo Litoral in Mayguez and will have around 100 beers to sample along with tapas and live music
Cost is $45.
Find out more here
Supermarkets
Supermarkets? I know this one sounds a bit strange, but if you can't make any of the above Oktoberfest celebrations you can always have your own. Most of the supermarkets and some smaller specialty stores will have a selection German beer especially for Oktoberfest.
So why not grab a few bottles and enjoy the annual Oktoberfest…
If you know of any other Oktoberfest Celebrations in Puerto Rico; it would be great if you could share them in the comments below.
Information
Oktoberfest in Puerto Rico 2013
Various events around the island during October:
Casa Bavaria, Morovis, Fri-Sun from Oct 2-26, 2014
Aibonito Beer Garden, Sat Oct 18, 2014
Old harbor Brewery, Old San Juan, Thurs-Sun Oct 2-12, 2014
Shannan's Pub, Guaynabo, Sat Oct 25, 2014
Das Alpen Café, Rincon, Sat Oct 4. 11, 18 2014
Oktoberfest in la Bahia, Bahia Urbana, Old San Juan October 25, 2014
West Beer Festival, Mayaguez, Sat Oct 24-26, 2014

Varies depending on event
If you are planning on attending one of these events, plan ahead and arrange a designated driver