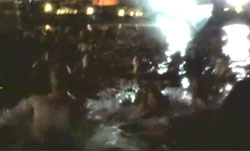 Noche de San Juan (St John's Night) is a major celebration here in Puerto Rico that takes place on the night of June 23. Family and friends gather on beaches all around the island to celebrate the birth of Saint John the Baptist.
The evenings celebrations begin with gatherings at local beaches where family and friends enjoy food music and dancing. Then on the stroke of midnight, those gathered at the beach will walk backwards into the sea and fall backwards to immerse themselves in the water. They do this 3 times as traditions says that you will have 'good luck' for the rest of the year.
The larger gatherings will take at the beaches around San Juan, but you will find celebrations taking place at most beaches around the island and even in swimming pools.
If you plan on joining in with this annual tradition then make sure you head to your chosen beach early as finding a parking spot and a place on the beach can be difficult due to the large number of people that gather.
For the San Juan area you should consider the beaches along Condado, Isla Verde, Ocean Park, , Carolina, as well as Escambron Beach. Outside of San Juan, check with where you are staying for the nearest beach celebration; there is sure to be one nearby.
If you would like to take part in La Noche de San Juan, find a beach, get there early, be prepared to get wet and have a great time doing so.
What: La Noche de San Juan, Puerto Rico
When: Evening of June 23 with the traditional walking backwards into the sea at Midnight
Where: All around the island.
Cost: Getting Wet
The celebration of La Noche de San Juan is not unique to Puerto Rico as it is also celebrated in other countries around the world. In Ireland as well as celebrating with water, bonfires are lit and the ashes are used to spread on the land. In Scandinavia people gather to jump over bonfires as a sign of courage. Fires are also lit in Brazil as people celebrate the birthday of St John the Baptist.
Have you taken part in La Noche de San Juan celebrations here in Puerto Rico or in other parts of the world? Would love to hear about them in the comments below.
Resources: NAHJVideos