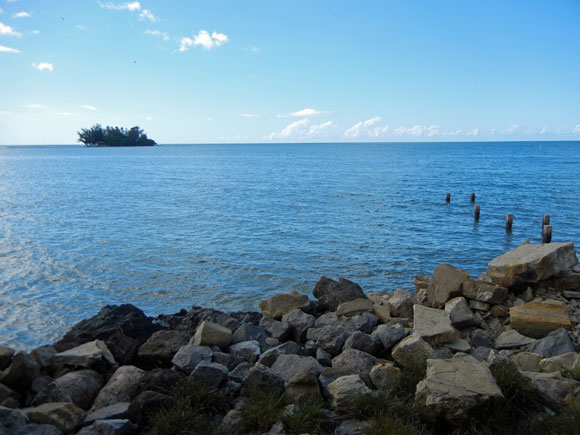 Joyuda on the west coast of Puerto Rico has been on my radar ever since arriving in Puerto Rico. Why? Because whenever I have asked for recommendations on great seafood restaurants, the number ONE answer I get is; 'You have to check out road 102 in Joyuda'.
So that's exactly what I did a few weeks back when my sister was visiting from England. We set off early in the morning and checked out a few beaches around Cabo Rojo and then made a beeline for PR 102 for a late afternoon lunch stop.
PR 102 runs along the west coast of Puerto Rico for about 11 miles from Cabo Rojo north to Mayaguez, but it is the short stretch of road opposite Isla Ratones (Rat Island) where the seafood restaurants, bars and kiosks are located.
Along this stretch of PR102 you will find ocean front restaurants that are virtually on the water as well as restaurants on the opposite side of the road that may or may not have a sea view.
Personally after driving all the way from San Juan, I wanted a restaurant that was on the waterfront and as it was a Monday, options were a limited (a lot of restaurants were closed).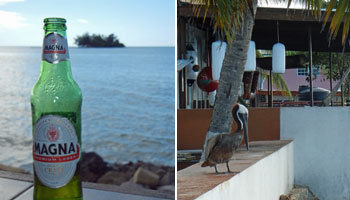 Fortunately the Island View Restaurant was open (bonus, it has its own car park) and it did not disappoint. The restaurant is right on the waterfront with a great view of Isla Ratones from the main dining area or the outside covered deck. We chose to eat outside and enjoyed delicious fresh seafood, washed down with some local beer and enjoyed the views of Isla Ratones and the distant horizon.
During the meal we noticed some thrashing in the water close to the restaurant and were intrigued by what was going on. It turns out that the restaurant is a popular spot for the local tarpon fish that are kindly fed by the kitchen staff. We also got a visit from a couple of large pelicans, also looking for a seafood handout.
It was still too early for sunset but I can imagine that this area would be a great spot to watch the sun go down.
On weekends and holidays Joyuda gets really busy for lunch and dinner, so you should factor some extra time for traffic if you plan on heading there on a Saturday/Sunday/holiday.
If you are OK with a limited number of restaurants to choose from then head to Joyuda during the week, it will be a lot quieter and finding parking will be a lot easier.
If you are OK with doing a lot of driving, then a day trip to Joyuda is possible, but if you have the time then try to spend a few days over on the west coast, you won't be disappointed.
What: Joyuda Seafood Restaurants
Where: all along PR102, Joyuda (opposite Isla Ratones)
When: Monday – Sunday (more restaurant open on a weekend)