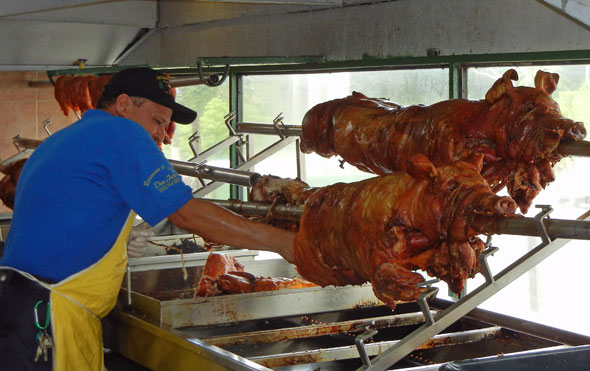 Question: Guavate, Puerto Rico ?

Answer: The best (but not the only place) to try Lechon (slow roasted whole pig) in Puerto Rico
Guavate, Puerto Rico is a pork lover's dream and is a MUST stop for anyone who wants to try the traditional Puerto Rican Lechon. Located about 45mins south of San Juan, Guavate offers something for everyone; cooler temperatures, live music, fun atmosphere, great food and the main attraction; awesome roast pork.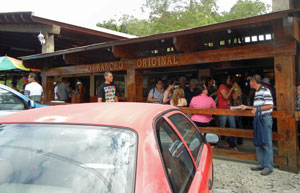 The Lechoneras (restaurants) in this area specialize in slow roasting the whole pig over an open fire for several hours, so that the pork is tender, moist and full of flavor. Along with the pork, you will also find traditional Puerto Rican foods; rice and pigeon peas, yucca (cassava), morcilla (blood sausage), tostones, turkey, chicken and a host of other dishes. One thing is for certain you will not go home hungry and Guavate will not break the bank. Food is plentiful and reasonably priced.
The best time to visit Guavate is on weekend or Public Holiday and you should aim to get there around noon or soon after, as it is an extremely popular day trip for the locals as well as visiting tourists. PR 184 is the main road to Guavate from Hwy 52 and it winds its way up and eventually ends at the Carite Forest.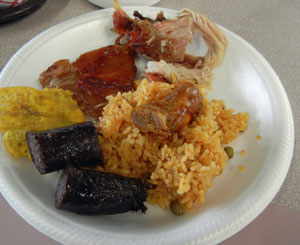 PR 184 is lined with Lechoneras, with the majority of them located just after you turn right where PR 194 meets PR 763; so the only thing you have to do is pick one. If you are in a hurry and want to avoid the potential heavy traffic, try one of the first Lechoneras that you come to, If you want to experience the full atmosphere of Guavate, keep driving until you reach the main bulk of the Lechoneras just before the Carite Forest.
Tip: If a lechonera is BUSY, then it's a good bet that the food will be great.
Once you have picked your lechonera, find a parking spot close by or use one of the small parking lots (for a small fee) and make your way to the food line. Here you will find the side dishes in warming plates and the lechon on the cooking spit, ready to be served. Don't worry if you are unsure about what to order, someone in line or one of the servers will help you out. Place your order and watch as they hack up the pork with a machete; it's quite a sight.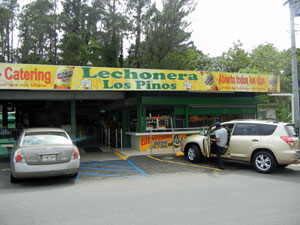 On a recent trip, we stopped at Lechonera Los Pinos and had a fantastic meal. It was actually one of the quieter Lechoneras, but that suited us, as we had our 3 month old daughter with us, and some of the other lechoneras were a little too loud for her. We pigged out on Lechon, morcilla, local sausage, rice & pigeon peas and batata and had plenty left over to take home.
We are already planning our next visit…
What: Guavate
Where: PR 184
When: Weekends are best, between noon – early evening (but some are open during the week). Recommend getting there early to avoid the crowds
Directions from San Juan:
Take Highway 52 (toll road) south and take exit 32 (Guavate).
Make a left and head up Rd 184.
You will find lechonaras all along the route with some of the most popular around km. 27