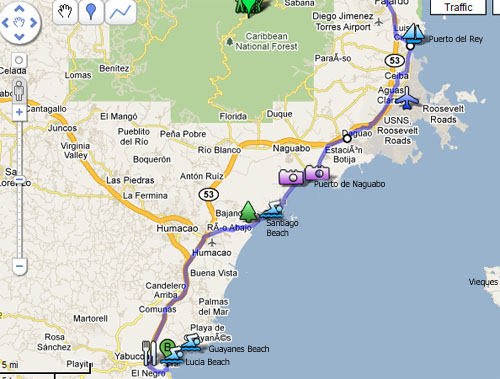 Route 3 in Puerto Rico will be familiar to anyone who has visited El Yunque rainforest, Luquillo Beach (and its kiosks) as well as the north east town of Fajardo (for its beaches and bio-bay). But how many of you have ventured south past Fajardo on Route 3?
We did exactly that a couple of Saturdays ago.
From San Juan the drive to Fajardo is approximately 60 – 75 minutes depending on traffic. As you drive by Fajardo, Route 3 changes into Hwy 53 (which you can take all the way south to Maunabo) for a quicker drive. But if you have the time and want to see some great scenery and the ocean, then turn off Hwy 53 and follow the signs for RT 3. I'd recommend that you have a decent road map of Puerto Rico, or a GPS Systems
or if you have an iPhone then the google maps feature worked really well for us.
This first section of RT 3 will take you close to Puerto del Rey Marina, through the town of Ceiba and south past the old Roosevelt Roads Naval Station and the new Ceiba Airport (for flights to Culebra and Vieques). At this point you will only have glimpses of the ocean on your left, but don't worry you have great mountainous views of south side of El Yunque in the distance on your right.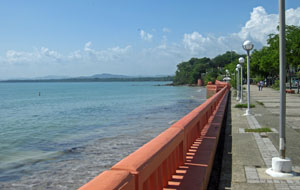 As you approach the town of Naguabo, stay on RT 3 and follow the signs for Puerto de Naguabo. Nauguabo is claimed to be the birthplace of the 'pastelillo de chapín'. This is a trunkfish wrapped inside flour dough, which is then deep fried and can be found in seaside towns as well as roadside vendors around the island. Puerto de Naguabo has a small Oceanside promenade and is also close to Punta Lima beach.
Continuing south along RT 3 you leave Puerto de Naguabo and it is at this point that the road brings you as close to the ocean as you can possibly get, well almost. For me this was one of the highlights of the drive. As the road runs parallel with the ocean there are several 'pull off' points where you can stop and just enjoy the views and may be try one or two of those pastelillo de chapín's that you may have picked up.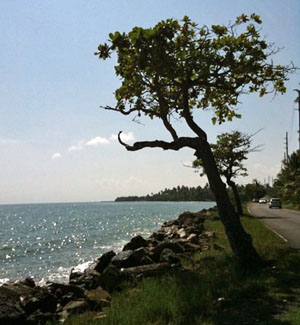 Punta Santiago is next on the route and is a popular beach spot with the locals and is also the spot where you can get a glimpse of Monkey Island (Cayo Santiago). This small island is located about 0.5 miles east of Punta Santiago and is the home of around 1200 Rhesus monkeys.
These free roaming monkeys are the descendents of the original group of monkeys imported back in 1938. Today Monkey Island is operated by University of Puerto Rico's (UPR) Caribbean Primate Research Center (CPRC), the National Institutes of Health (NIH) and Harvard University. The island is not open to the public, but you can kayak out close for glimpses of the monkeys.
Route 3 continues south and intersects again with Hwy 53. At this intersection you can decide to check out the town of Humacao or continue to head south on Hwy 53. Heading south on Hwy 52 you will pass close to Palmas del Mar; which is large community resort that covers approximately 2,700 acres and is renowned for its gardens, lavish homes, two championship golf courses, restaurants, hotel and a mega yacht marina.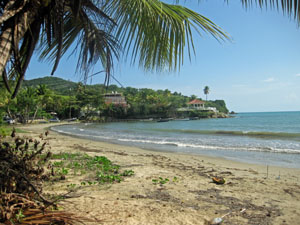 Just south of Palmers del Mar is Playa de Guayanes. From Hwy 53 take Rd 906 and follow it until you come to the beach. Here you will find parking and a narrow sandy stretch of beach.
Heading back south on Hwy 53 you will eventually come to the town of Yabucoa, known locally as "La Ciudad del Azúcar" (city of sugar). From Yabucoa you can continue south along Hwy 53 to Maunabo or take the longer route of Rd 901 which skirts the coastline. Unfortunately we were running out of time so were unable to continue to Maunabo and the Punta Faro Lighthouse, but we were able to make a quick stop at Lucia Beach, which was another highlight.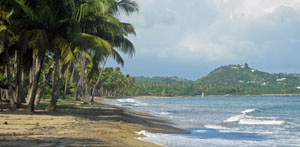 Lucia Beach is located along RD 901 south of Yabucoa and is well sign posted. As we drove down to the beach, I was struck by how many palm trees lined the parking area of Lucia Beach. It was even possible to drive through the palms to get closer to the beach (though I'm not sure how practical this would be on a busy beach day). The beach itself was very nice with sloping sand to the water and stretched a good distance in both directions. After a brief stop to enjoy the sea breeze we headed back to Hwy 53 for the trip back north, stopping briefly at a nearby roadside stand to pick up some pastelillo de chapín, empanadillas and alcalpurrias.
The drive north on Hwy 53 is much quicker than taking RT 3 and it has some fantastic scenery along the way. Enjoy…