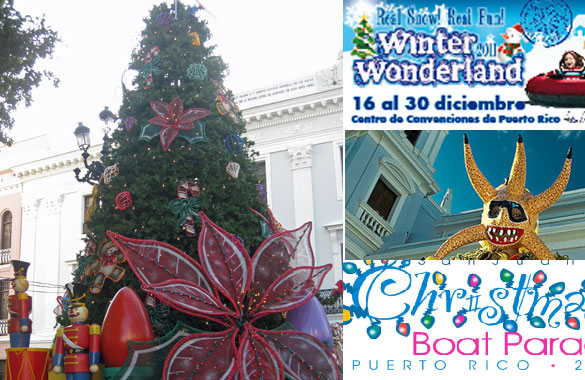 Puerto Rico was just recently voted one of the top winter destinations by Travel and Leisure and Christmas in Puerto Rico is a really magical time. The Christmas season starts immediately after Thanksgiving and continues well into January with celebrations and festivals throughout the island.
If you are here in Puerto Rico during this Christmas period here are a few things to look out for.
Traditional Christmas Events
La Feria
La Feria (The fair), starts before Thanksgiving and runs throughout the Christmas period up until January 8, 2012. La Feria takes place in the parking area of the Hiram Bithorn Stadium, close to Plaza Las Americas Mall. You can expect to see typical carnival rides for all ages,as well as game stalls, food stalls and music.
Midnight mass at the Cathedral in Old San Juan
Nothing says Christmas more than celebrating midnight mass and if you happen to be in San Juan on December 24, then one of the best places to celebrate is the Cathedral in Old San Juan. The service will be in Spanish, but you will be able to experience a traditional mass celebrating the birth of Jesus.
If you are looking for a service in English, check with your hotel as they should be able to direct you to the nearest church that will have an English mass.
Old San Juan Christmas Tree and Lights
Old San Juan at night becomes even more magical during Christmas, with the narrow cobbled stone streets illuminated with Christmas lights and Plaza de Armas showcasing the Old San Juan Christmas Tree. The Christmas lights in Old San Juan are usually switched on around the end of November, beginning of December and will stay illuminated until well into January 2012.
Christmas Boat Parade
This is a relatively new event, but one that looks like it will become a tradition. Local boat owners deck their boats out with Christmas lights and sail them around San Juan Bay. The parade starts at Club Nautica in San Juan and heads along the bay towards the San Juan Gate and Paseo de La Princesa. This years event takes place on December 10th 6pm – 8pm
Three Kings Day
Three Kings Day (Jan 6) is almost as big a celebration as Christmas Day, where family and friends gather together to celebrate. For the kids they wake up to presents under their bed; left by the Three Kings. Some towns like Juan Diaz will celebrate with Three Kings parades.
Hatillo Mask Festival
Music, food, parades and the trade mark masked vejigantes are the highlight of the Hatillo Mask Festival. The festival has been running annually since 1823 and commemorates the killing of the innocent children by King Herald. This years festival takes place on Dec 28.
San Sebastian Street Festival
The San Sebastian Street Festivals is one of the biggest and most popular festivals to take place in Puerto Rico. The area in and around San Sebastian Street comes alive with music, artisans, and food sellers. If you are afraid of crowds, you would do well to stay away, but if you like to party, then this is the place to be.
2012 San Sebastian Street Festival takes place Jan 12 – 15
New Years Eve in Puerto Rico
No matter where you are on the island you will have the opportunity to bring in the New Year; Puerto Rican style. Hotels and Resorts will host their own New Years Eve Parties, so check where you are staying for details.
Mainstream Events
SoFo Food Festival
A regular event that takes place along South Forlazela Street that showcases the restaurants of the area. Hugely popular with locals and vistors, it's a great way to sample some of the nest food that Old San Juan has to offer. Along with the amazing food, the atmosphere will be alive to the sounds of local
The Sofo Food Festival takes place Dec 1 – 4, 2011
Yanii live at El Morro
On December 16 and 17 the Grammy nominated composer and pianist Yanni will be performing live at El Morro Fort in Old San Juan. With such a backdrop, this should be a very special concert. Tickets are available at ticketpop.com
Britney Spears Live in San Juan
December 10 will see Britney Spears perform live at the Coliseo de Puerto Rico Jose Miguel Agrelot in San Juan.Dec 10, Britney Spears in Concert, San Juan. Tickets are available from ticketpop.com
Winter Wonderland at the San Juan Convention Center
December 16 – 30 sees the San Juan Convention Center transformed into a winter wonderland, where kids and adults can enjoy all the fun of the snow. Added bonus, it won't take too long to warm up, once you get back outside.