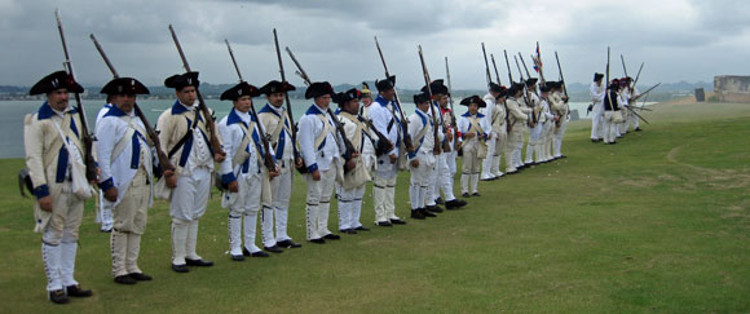 Back in 1797 a small band of Puerto Rican soldiers and resistance fighters held off an attack by the British Navy and ensured that San Juan and Puerto Rico did not fall into the hands of the enemy. That battle became known as the 1797 Battle of San Juan.
On April 29 – May 1, 2016 you can relive history with the Regimiento Fijo de Puerto Rico as they re-enact various battles that took place during 1797.
Typically the re-enactments take place in and around El Morro Fort, but this year based on the current schedule it appears that the majority of the displays will be at the Escambron Battery as well as various locations in Old San Juan.
Period costumes, weapons and battle strategies will be on display throughout the weekend as living history volunteers reenact this famous battle.
Battle of San Juan 1797: Quick Facts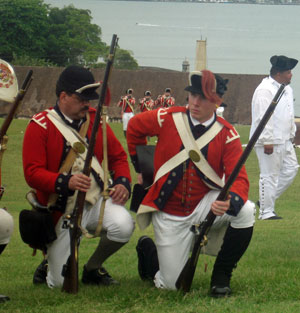 Battle lasted from April 17 – May 2
60 British Naval Vessels arrived off the coast of San Juan
Sir Ralph Abercrombie led the invasion
6000 British and German troops landed
El Morro prevented the ships from entering San Juan Bay
Fort San Antonio and Fort San Gerónimo manned by Puerto Rican troops held off the invading Britsh and German troops for 2 weeks
On May 2, the British retreated and left the shores of Puerto Rico
Schedule for 2016 (subject to change)
Friday, April 29, 2016
6-7pm, March from Cuartel de Ballajá to San Juan Cathedral
7:30pm, Standing Guard and Troop Blessing @ San Juan Cathedral
8-9pm, Rogativa Reenactment and Scrimmage @ Caleta de Las Monjas y Paseo de la Princesa / Las Monjas St. (front of Rogativa Square) and Paseo de la Princesa (boardwalk)
Saturday, April 30, 2016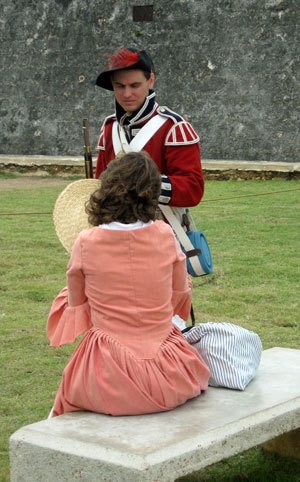 10:30am – 12:00pm First Battle / Scrimmage @ Escambrón Battery
1:30-2pm, Cannon firing @ Escambrón Battery
2:30-3:30pm, Second Battle / Scrimmage @ Escambrón knoll and Grounds
Sunday, May 1, 2016
9:30-10am, March from Cuartel de Ballajá to Plaza de Armas
10am, Troop inspection @ Plaza de Armas
10:30, Transfer of Troops @ Plaza de la Barandilla, Plaza Colón, Plaza Arturo Somohano Plaza San José, Plaza del Quinto Centenario
2-4pm, Assault to Casa Blanca from Casa Rosa to Casa Blanca
What: 1797 Battle of San Juan Reenactment
When: April 28 – May 1, 2016
Where: Ballajá Inner Plaza, Plaza Colón & Plaza de Armas, Escambron Battery, Casa Blanca andaround the streets of Old San Juan
More Info: Website
This is a great event for all the family