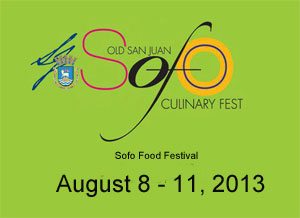 UPDATED: 2013 Sofo Festival, August 8-11, 2013
The SoFo Food Festival returns to the streets of Old San Juan from August 8 – 11, 2013.
San Francisco Street, Fortaleza Street, Recinto Sur and Plaza Arturo Somohano will be the places to be during this 4 day festival of food.
35 restaurants from Old San Juan will be participating in the 19th edition of the Sofo Culinary Festival showcasing there cuisine and culinary skills; this is a great way to try some amazing food from some of the best restaurants in Old San Juan.
Each restaurant will offer small samples of their best dishes; so it's easy to jump from restaurant to restaurant without breaking the bank.
There will also be 5 areas around the festival showcasing local musical talent; after all it would not be a festival in Puerto Rico without Music…
Some of the restaurants taking part include:
Agua Viva
Al Dente
Café Berlín
Café Puerto Rico
Caficultura
Dragonfly
Lupis Mexican Grill
Marmalade
Mojitos
Raíces
Siglo XX,
Tantra
Vaca Brava
And many more…
So when can you check out the great food and music at the Sofo Food Festival.
Thursday Aug 8, 5pm to 12 midnight
Friday Aug 9, 5 pm to 1am
Saturday Aug 10, 3pm to 1 am
Sunday Aug 11, 3pm to 10pm
The festival is extremely popular so plan on getting there early, especially if you are driving into Old San Juan.
What: Sofo Culinary Festival
When: Aug 8 -11, 2013
Where: Streets around Fortaleza Street in Old San Juan
Times: See above
Are you going to the Sofo Food Festival? Have you been to one before? Share your stories in the comments below.