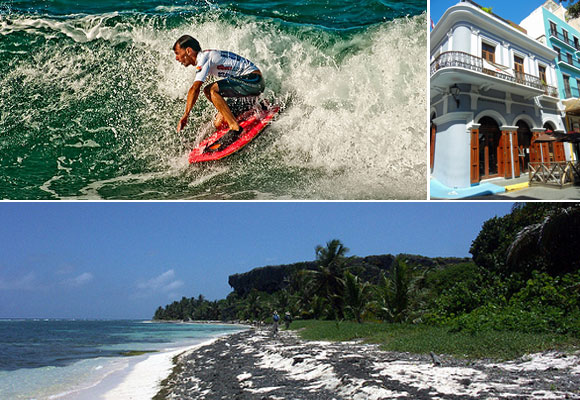 This month's roundup has something for everyone, from diving, surfing, exploring or just enjoying the sights of Puerto Rico; the following articles have got you covered
Top 10 Dive Spots in Puerto Rico
ScubaDiving.com picks their top 10 dive spots in Puerto Rico, rating them into 3 categories:
Don't Even Think About Going Home Until After This Dive
Worth the Airfare Alone
Dive at Least Once
Along with their own ratings they also the recommended skill level for each dive.
This is a great list for any diver heading to Puerto Rico. Check out ScubaDiving.com's Top 10 Dive Spots in Puerto Rico (scubadiving.com)
How to Dive at Mona Island in Puerto Rico
Rated by scubadiving.com as a 'Don't Even Think About Going Home Until After This Dive', Mona Island is not the easiest dives to get to. USA Today gives a 4 step checklist for arranging and making the most of diving Mona Island and it's not as straightforward as you may think.
Check out USA Today's Mona Island Dive Check List here (traveltips.usatoday.com)
Gas Chambers in Aguadilla
For surfers, surfline.com has a great narrated photo slide show of Gas Chambers in Aguadilla. The slide show is narrated by Dylan Graves along with some really cool photos. Check out surflines Spot Check of Gas Chambers in Aguadilla (surfline.com)
Puerto Rico Foodies Tour
Rick Martinez takes the readers of Group Tour Magazine on a culinary tour of Puerto Rico, highlighting the best culinary delights of the island. As Rick says 'The food — native, local, Caribbean and fusion — was amazing and mouth-watering.' You can find out all about his Pork, plantains, potatoes and Puerto Rican rum tour here (grouptourmagazine.com)
Vieques Your #1 Caribbean Destination
Johnnyjet.com contributor Melissa Curtin gives you her NINE reasons why Vieques Island, Puerto Rico Should Be Your #1 Caribbean Destination. From the W Vieques Resort, the beaches and marine life, the local food, the breathtaking flight from San Juan to Vieques and more. Check out Melissa's list here (johnnyjet.com)
Finally a couple of photo essays to inspire you to visit Puerto Rico
Textures of Old San Juan
Travelwriters.com has a great photo essay showing the Textures of Old San Juan with La Mina Falls thrown in for good measure. See the Old San Juan photo essay here (travelwriters.com)
Why We Love the Puerto Ricans
The travel channel shows us in pictures why they love Puerto Rico and the Puerto Rican people. Check out the slideshow here (travelchannel.com)
Would love to hear what you think to this monthly roundup of Puerto Rico Travel Articles. Let me know if you find it useful or not in the comments below.
Photos: Surfing by Ricardo Mangual and Mona Island by paddlepr using Flickr Creative Commons Lisence