The fastest way (usually) to drive around Puerto Rico is to take the toll roads (autopistas). This is fine if you want to just get from A to B as quickly as possible, but if you have the time, I urge you to explore the roads beyond the autopista. You won't be disappointed and will be rewarded with; great drives, awesome views and the chance to discover some of Puerto Rico's better kept secrets.
To get you started here are a few routes to check out:
PR143 Barranquitas to Toro Negro (part of the Ruta Panoramica)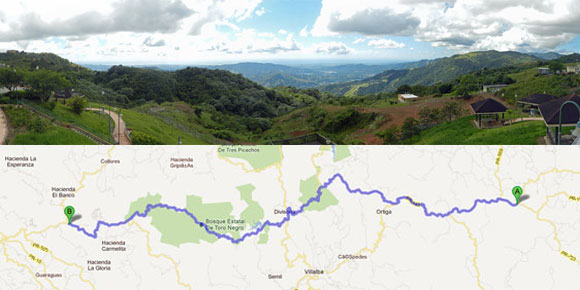 The Ruta Panoramica crosses the heart of Puerto Rico from east to west, offering twisting mountain roads with amazing views of the whole of Puerto Rico. The route starts in Guayama on the south east coast of Puerto Rico and ends on the west coast in Mayaguez.
For anyone considering driving the complete Ruta Panoramica; you need at least 2-3 days to do the drive justice. For those looking for a taste of the Ruta; then spend a day driving a section of the route.
One such section is Road 143 just south of Barranquitas heading west towards Toro Negro. This drive is easily accessible from the San Juan metro area and offers amazing views of both the north and south coasts of the island (weather permitting) as well as awesome views of the central mountains and valleys.
Unfortunately you will not find many designated look out spots to enjoy the amazing views so just pull over whenever you can. There is though one really great spot to stop; Mirado Villalba Orocovis. Here you will find ample parking space, covered picnic tables, kid's playground, bathrooms and small café. Oh and did I mention the amazing views of both the south and north coasts.
Other nearby attractions include:
Salto Dona Juana (Dona Juana Falls) on Rd 149 (this is a narrow stretch of twisting road, so drive carefully)
Toro Verde Zip lines
Cerro de Punta at 4, 390 ft
PR 15 Cayey – Guayama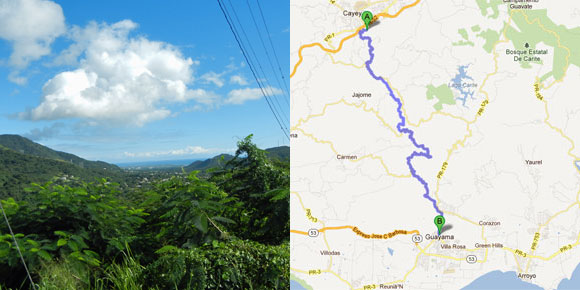 Granted to get to this drive, you will need to take Hwy 52 south, but once you get close to Cayey watch out for the signs for PR 15 and you will not be disappointed.
The road will take you from Cayey to Guayama on the south coast with views of the mountains surrounding Cayey in all their greenery and breath taking views of the east coast and south coast as you head down towards Guayama.
The twisting mountain road is in good condition but I would recommend pulling over and allowing any fast local drivers to pass so that you can enjoy the views at a more leisurely pass. As with most of the routes mentioned here, you will need to just pull over when you have a chance to enjoy the views as there is no official look out spots on this route.
Nearby Attractions:
From Guayama, you could head west towards Salinas (several seafood restaurants) and Ponce. Or east towards Manuabo to visit the Faro de Punta Tuna (lighthouse)
PR 901 & PR 3 Yabaucoa – Maunabo – Guayama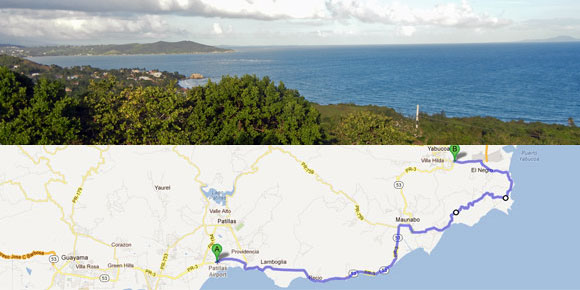 This drive will take you along the south east coast of Puerto Rico with views of Vieques and Culebra islands. The quickest route from San Juan is to take Hwy 52 south and then PR 30 to Yabaucoa (toll roads). If you have more time then consider heading to Fajardo and then driving the east coast of Puerto Rico on the old Route 3.
From Yabaucoa head south on PR 901. The road twists as it climbs offering great views of the coastline and the islands of Vieques and Culebra. Along this stretch of road you will find several cliff side restaurants with ocean views, if you are looking for somewhere to eat.
As you head towards Maunabo you have the option to take the Vicente Morales Lebrón tunnel, but if you want to continue to hug the coast line, skip the tunnel and stay on Rd 901.
Once in Maunabo you can take a short detour on PR 760 to the Faro de Punta Tuna (Maunabo Lighthouse) and even more great coastal views.
From Manuabo continue along PR 3 (also known as Hwy 53) towards Guayama
PR 102 Joyuda

Just east of Cabo Rojo, PR 102 skirts the coastline north towards Mayaguez. The sea views alone make this a great drive but PR 102 is also well known for its concentration of Sea Food Restaurants in Joyuda. You can't miss them, small roadside shacks, bars and restaurants all serving freshly caught seafood with or without ocean views. Just be prepared for heavy traffic if you plan to check out Joyuda on a weekend or holiday.
Nearby Attractions:
Cabo Rojo Lighthouse
Combate Beach
Boqueron Beach
Mayaguez Zoo
Other Routes to Check Out
PR 10 Arecibo to Ponce
Consider stopping at Dos Bocas Lake on a weekend or holiday to enjoy the lake and one of the lakeside restaurants
PR 187 San Juan to Rio Grande
Ocean views, beaches and the famous road side kiosks in Pinones make this drive worthwhile.
As for places to eat, if you don't have any places in mind, do what we do when we head out on a road trip; just look for the places that are busy with locals and you will stand a good chance of finding a great place to eat. Also, don't forget those road side stalls for some traditional Puerto Rican snack foods.