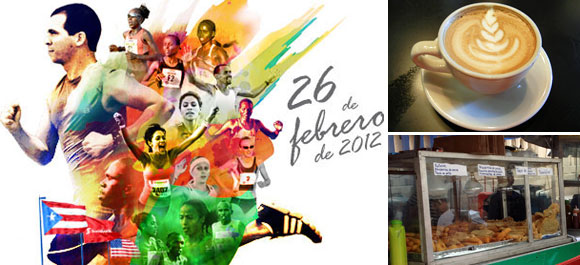 February 2012 in Puerto Rico is a pretty good month if you like coffee, eating street food and running, as the month brings us the first ever Puerto Rico Street Food Festival, the World's Best 10K run and the Maricao Coffee Festival.
Puerto Rico Street Food Festival (Feb 4-5)
Head to the Hiram Bithorn Stadium, near Plaza Las Americas February 4 -5 and check out some of the best food trucks Puerto Rico has to offer. Always wondered what a Tripleta is; then head to the Puerto Rico Street Food Festival to find out.
Admission is $8 with food samples costing around $1 – $4, with plenty of entertainment on hand.
Website
World's Best 10K (Feb 26)
An extremely popular road race with professional and fun runners from around the world. The actual race takes place on Feb 26 at 5pm starting at Teodoro Moscoso Bridge, but this is all day family event, with a wheel chair race scheduled for 8:30am and a kid's mini race at 11am.
There will also be a Fitness Festival at the Coliseo Roberto Clemente on Friday Feb 24 (12pm – 9pm) and Saturday Feb 25 (9am – 9pm)
Website
Maricao Coffee Festival (Feb 10 – 12)
If you love coffee then the weekend long festival in the town of Maricao is right up your street. The festival celebrates the end of the annual coffee harvest with music, parades, typical Puerto Rican food, arts and crafts and plenty of coffee.
Maricao is located on the west side of the island east of Mayaguez and north of San German
Also happening in February 2012
Tall Ship HMS Bounty in Old San Juan (all Feb until Mar 31)
Ship tours available Monday – Sunday from from 8am-6pm.
HMS Bounty is docked close to pier 3 in Old San Juan
Puerto Rico Freefall Festival, Arecibo (Feh 15 – 19)
This year there will be an attempt at the Women's Puerto Rico Skydiving Record
Website
Feb 15 – 21, Ponce Carnival (Feb 15 – 21)
Annual festival in Ponce celebrated the week before Ash Wednesday. Featuring Parades, music, artisans and food stalls
Feb 25 – Mar 17, 2012 Casals Festival in San Juan (Feb 25 until Mar 17)
The annual Pablo Casals festival starts at the end of February and runs until Mar 17 at the Performing Arts Center in Santurce
See Website for complete list of performing artists and ticket information
Stay up to date with local events at our What's On in Puerto Rico page