UPDATE: The company AudiaGuia has stopped offereing luggage storage in Old San Juan
Puerto Rico has one of the busiest cruise ship schedules in the Caribbean. If you are one of the many that will be starting a cruise in Puerto Rico, the following might be helpful.
Pre Cruise
Most Puerto Rico cruises starting from San Juan will leave port late afternoon / early evening, with boarding starting around lunch time
What do we do with our luggage before we can board the cruise ship in San Juan?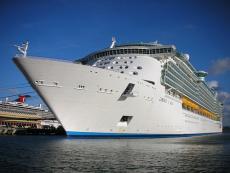 There are a few options with regards to dealing with your luggage before you can board the cruise ship.
If you have arrived the day before, you might want to consider checking out of your hotel as late as possible. That way you can just relax around the hotel area (pool / beach) and take a taxi to the cruise ship closer to the boarding time. If the hotel checkout is too early, ask for a later checkout or ask the hotel to store your luggage until it is time for you to head to the cruise ship.
If you arrive early in San Juan on the day your cruise leaves (or you want to tour Old San Juan) you can store your luggage at either Barrachina Restaurant or Audio Guia. Both are close to the cruise line piers in Old San Juan. Audio Guia charges a storage fee and storage at the Barrachina Restaurant is free (but I am sure the owners will expect that you will at least buy something at the restaurant). With your luggage in storage you are free to see the attractions of Old San Juan.

Note: Some Puerto Rico cruises depart from the Pan American pier which is on the opposite side of San Juan bay. If this is the case for your cruise, then you will need to take a taxi from the storage location to the Pan American pier. The taxi will cost you around $10 plus $0.50 per piece of luggage, excluding hand luggage, and an additional charge of $1.00 per luggage, after three pieces


For anyone arriving on the same day as the cruise, the cruise line will have the option to take their transfer from the airport to the cruise pier. This is a service that you will have to pay for in advance.
Advantages: You should be able to check your luggage in when boarding the bus and should not need to re-check it when you arrive at the ship (confirm this with your cruise line)
Disadvantages: If you are traveling with others, the cruise line transfer will probably be more expensive than taking a local taxi. Also, you will need to wait at the airport until every passenger has boarded the bus.
Will we be able to leave the ship, once we have checked in?
Depending at one time your ship departs, you should be able to leave the ship to see some of the attractions of Old San Juan before your cruise departs. Once again, if your Caribbean cruise departs from the Pan Am pier, you will need to take a taxi in order to get to Old San Juan. Depending on how long you have before your cruise departs will determine how much of Old San Juan you will be able to see. Attractions worth considering are:
El Morro Fort
San Cristobel Fort
La Bombonera restaurant (if you are around for breakfast / brunch)
San Juan Cathedral
Governors Mansion and gardens
San Juan Gate and the Paeso La Princesa

Note: If you plan on boarding the cruise ship first before touring Old San Juan, plan to have a daypack (hand luggage) with a change of clothes. This way you will not need to wait for your main luggage, before heading into Old San Juan
Post Cruise
We have several hours to kill in San Juan at the end of our cruise. What can we do?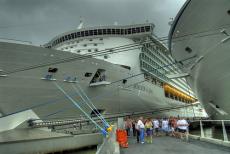 Again, the main issue that you will have is your luggage. Here are some suggestions:
If you plan on touring Old San Juan, then use one of the two storage facilities; Barrachina Restaurant or Audio Guia.
Check to see if your airline offers luggage check-in at the cruise ship piers. American Airlines offers this service for the Old San Juan piers, so it is worth checking with your airline. This option means that you can check-in your luggage before you leave the ship and forget about it until you arrive at your final destination.
Book one of the 'end of cruise tours' that the cruise line offers. These tours will usually be on a bus and will allow you to take your luggage with you. At the end of the tour, you will be dropped off at the airport.
If none of the cruise line tours appeal to you, consider taking a private tour. Again you will be able to take your luggage with you and at the end of the tour get dropped off at the airport.
If you are feeling a little bit more adventurous, arrange a rental car and do a self tour. If you have the time, a trip to El Yunque rainforest is a good option. Just make sure that the car rental company will allow you to drop the car at the airport or will take you to the airport after dropping the car off.
If you would just like to relax by a pool or the beach. Check the various hotels in San Juan to see if they have any day passes or day rooms available. The Marriott has offered this in the past, so make a few phone calls (use the local San Juan number rather than the general 1-800 number).
If you are not leaving Puerto Rico after your cruise, contact your hotel (use the local number) and arrange for an early check-in or to store your luggage at the hotel until your room is ready.
If you have any other suggestions for pre & post luggage options, please add them in the comments.
Puerto Rico cruise resources:
Taxi prices around San Juan
Barrachina Restaurant for luggage storage (9am – 5pm) click on 'free services'
Audio Guia for luggage storage – across from pier 4 (website unavailable at this time)
Puerto Rico travel map (zoom into Old San Juan for pier locations and attractions)