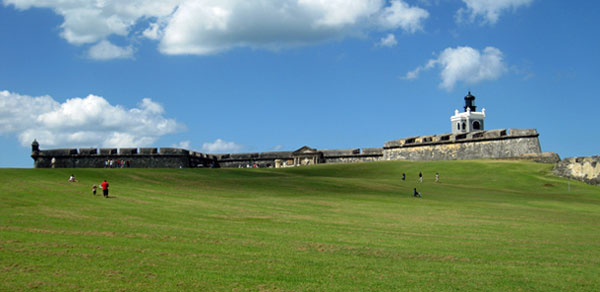 Location
The island of Puerto Rico lies in the Caribbean, between the Dominican Republic and the Virgin Islands and is 1,050 miles southeast of Miami. The island measures approximately 100×35 miles and with a year round tropical temperature that averages around 83°F (22.7°C) in the winter and 85°F (29.4°C) in the summer. So it makes for a great vacation spot.
Geography
The north of the island is lush green, while the south is more arid due to the fact that the south receives less rainfall, throughout the year. The center of the island is dominated by the Central Cordillera mountain range that runs east to west at elevations that range from about 1,000 to 3,000 feet. The highest peak is Cerro de Punta at 4,398 feet. Temperatures here are much cooler than on the coasts.
History and Culture
The island packs almost 4 million people into the 100×35 miles island, with around 1 million of those living in and around the San Juan Metropolitan area. The island has a vibrant, multicultural feel due to the Spanish, African, Indian and U.S. influence, which is mirrored in the food, music and architecture of the island. The Spaniards were the first to leave their mark on the island with their arrival in 1493. Over the next 400 years they built cities, forts, churches, roadways and lighthouses that can still be seen today. Even though Puerto Rico has been part of the United States since 1898 the people of Puerto Rico have kept their Spanish heritage.
Day to Day
For US Citizens and permanent residents traveling from the mainland United States there is no need to bring a passport (all other travelers will need a passport). If Puerto Rico is your entry point to the United States, then you will need to go through Customs and Immigration, when you arrive on the island.
Currency in Puerto Rico is the US Dollar and major credit cards are accepted in the majority of establishments on the island. ATM's for major US and International banks are found all over the island.
Puerto Rico stays on Atlantic Standard Time (AST) all year round. This means that From October – April Puerto Rico is 1 hour ahead of Eastern Time and during from April – October the time is the same as Eastern Daylight Saving Time.
Mail is delivered by the United States Postal Service
There is a State Tax of 5.5% on most purchases with up to an additional 1.5% municipal tax
Emergency Services can be reached by dialing 911 (the same as the USA). Operators are fully bilingual in English and Spanish.
Electricity is the same voltage as the United States 110-120 volts, so European visitors will need an adaptor.
Drinking Age is 18
Mosquito repellent is recommended and can be found in pharmacies and grocery stores on the island.