The trail starts at PR 191, km 10.4. Parking is available in the adjacent paved parking lot, and at designated areas along the road.
The Big Tree Trail is a 0.7 miles and is a self-guided interpretive trail, descending from 1,804 feet to 1,640 feet. Hiking time is approximately 40 minutes, one-way. The trail is rated moderate in difficulty, and is steep in some places. The walking surface is paved asphalt and there are rain / picnic shelters along the way as well as signs describing the area that you are walking through.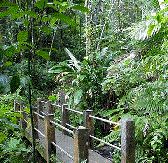 The trail ends at Cascada La Mina waterfall (La Mina Falls where you can choose to swim in the cool refreshing water or merely rest and enjoy the view. Here the trail connects with La Mina River Trail, so you can either continue on this trail for 30 – 45 minutes and exiting at the Palo Colorado Information Center located on PR 191, km 12.2 about 1 mile up the road from the Big Tree Trail parking lot, where you can then return via PR191 to you vehicle or return the way you came.
Source: USDA Forest Services