One of the most popular activities for visitors here in Puerto Rico is to visit the bioluminescent bay (bio bay). Puerto Rico is fortunate to have not one but three bioluminescent bays; Mosquito Bay in Vieques, Laguna Grande in Fajardo and La Parguera in Lajas.
The bio bay at Mosquito Bay is the largest and brightest (healthiest) and was recently named in Coastal Living's Top Ten Coastal Wildlife Hot Spots.
The bio-bays glow is caused by micro-organisms (dinoflagellates) which glow whenever the water is disturbed, leaving a trail of neon blue. The best time to view the bioluminescent bay is when the night sky is dark due to little or no moonlight.
You can contact any of the bio-bay tour operators for information about the expected conditions for the night that you would like to take the tour.
The calendar below shows the various phases of the moon for the upcoming months. As you can see there are certain days during each month, when a tour of the bio-bays are not recommended. The best days to go are either side of a NEW moon and you should try to avoid days either side of a full moon.
So if a visit to the bio-bay is high on your 'to-do' list, make sure that you plan your trip to coincide with the best days to see the bioluminescent bay.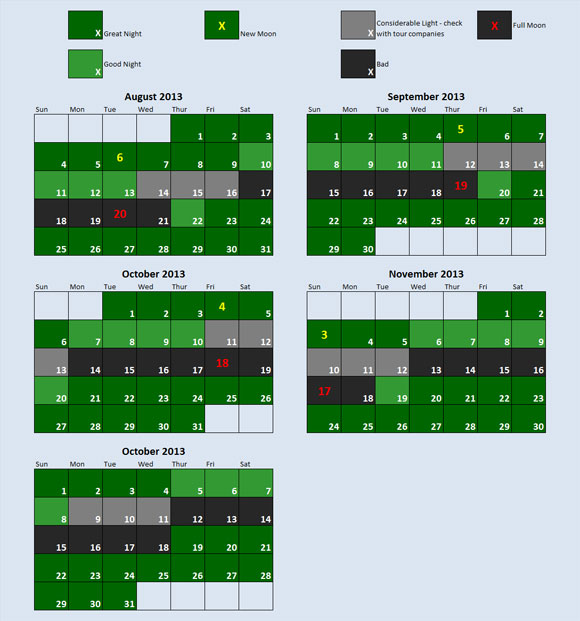 The above calendar has been created using moon phase information gathered from calendar-365.com, Island Adventures
Disclaimer: The above calendar is provided for informational purposes only. You should contact the tour company of your choice to confirm whether the moon phase is going to be right for viewing the biobays for the dates that you are looking at.