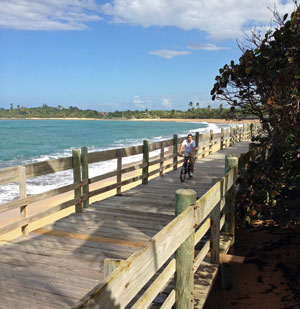 Pinones is a firm favorite with locals and visiting Travel Channel food presenters and for good reason; awesome Puerto Rican food from numerous roadside food kiosks and restaurants that line PR 187 through Pinones towards Loiza.
But Pinones has another secret: the Pinones Boardwalk. An 11Km nature trail, that runs along the north coast and through the Pinones mangrove forest (Bosque de Pinones).
The Pinones Boardwalk, just like the Pinones food kiosks is a very popular spot with locals and tourists on a weekend (and holidays). The boardwalk starts in Pinones and heads east for 11km skirting the beaches then crossing PR 187 into the Pinones mangrove forest.
The boardwalk is ONLY accessible to non motorized traffic; walking, strollers, bikes and the occasional police horse. If you plan on biking the boardwalk there are a few places along the trail where you can rent bikes, though bike conditions and helmet availability may not be the best.
CicloNatura are located in the COPI (Centro Cultural y Ecoturístico de Piñones) building located just after the Boca de Cangrejos bridge at the entrance to Pinones. They have children's and adult sizes, as well as baby seats and tandem (double) bikes. They also supply helmets. Rates are about $5 per hour and they are open 7 days a week 9am – 5pm.
Note: You can also rent kayaks from COPI to explore the lagoon and mangroves.
At various spots along PR 187 you will also find roadside bike rentals.
Other options include bike rentals in Isla Verde (check with your hotel) such as Rent the Bike
If you plan on biking the complete trail (there and back), allow yourself plenty of time stop and enjoy the beaches, the mangroves and the food.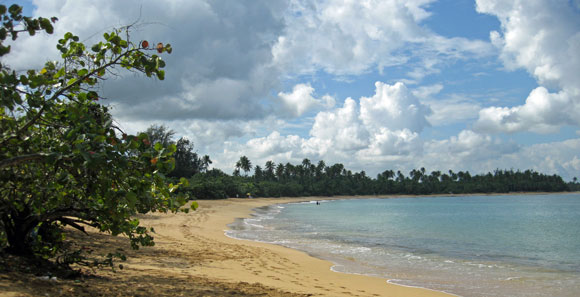 A popular spot is located about 2km from the start of the boardwalk located opposite a group of food kiosks. The water is protected from the ocean by a large rock divide and is popular with families, as it provides shallow pools to swim in, plus the added advantage of nearby food kiosks.
If you don't plan on biking the trail, you can just as easily park your car and take a leisurely stroll along sections of the trail, or just relax at one of the many beaches along the route.
The views along the boardwalk are awesome and the smell of food as you pass the food kiosks and restaurants will drive you crazy. So make sure you allow enough time to soak in the scenery and sample some traditional Puerto Rican Food.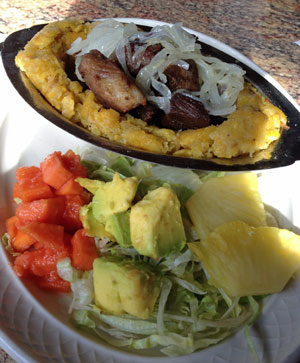 There are too many food kiosks to mention here, just stop at one that looks busy… as for restaurants with ocean views; The Waterfront and Soleil Beach Club are popular. The Soleil Beach Club offers transportation from the Isla Verde Area.
Directions from San Juan
Head east on RT 26 (towards the San Juan airport) and exit onto PR 187 towards Pinones.
Note: On weekends and holidays Pinones gets extremely busy, so be prepared for slow moving traffic along PR 187
What: Pinones Boardwalk
Where: Pinones
When: 7 days a week (some kiosks may only be open on weekends and holidays)