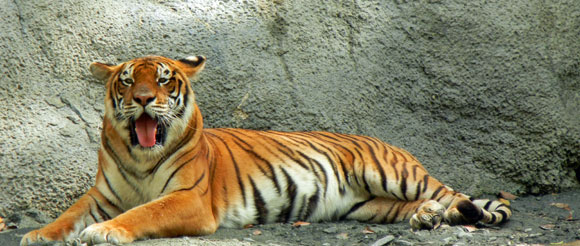 Kids love zoo's and the Mayaguez Zoo on the west coast of Puerto Rico is a great way to spend a few hours getting 'up close' to some of the planets exotic animals, reptiles and birds.
'Parque Nacional Zoologico de Puerto Rico Dr. Juan A. Rivero' to give the zoo its official title (Mayaguez Zoo for short) is not a large zoo, but it is the only zoo here in Puerto Rico.
The zoo is home to a wide variety of animals; zebras, lions, tigers, monkeys, giraffe, elephant as well as birds, reptiles and more.
After paying the entrance and parking fees, head to the entrance building, where you will be given an audio guide (available in English and Spanish with versions for adults and children) and a map of the zoo. The day we went, they must have been running short of maps, as we never received one, though we did see people with them. Don't worry if there are no maps, the zoo is easy to navigate.
The zoo is very well laid out with well paved paths (most of the time) to all of the different animals enclosures. There are ramps to get to all of the animals so the zoo is great if you have strollers or need to use a wheelchair. I will just add, that there are a couple of hilly sections but nothing too steep.
At each of the animal enclosures you will find information boards in English and Spanish as well as a number (for adults and children) which you can use with the audio guide.
The Animals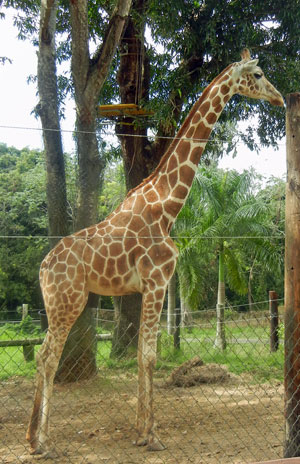 On the day we visited we were able to see:
An elephant
Several lions (females only)
2 tigers
2 jaguars
A puma
A giraffe
2 zebras
2 hippos (sleeping)
2 Camels
A rhino
Several monkeys
Various other smaller animals, such as; pot bellied pigs, warthogs and goats
Along with the animals, the Mayaguez Zoo has a good collection of birds, including various birds of prey, owls, parrots (including the endangered Puerto Rican Parrot). There is also a separate netted aviary where you can walk around surrounded by free flying birds, which is pretty cool.
There were also several bird species that were wandering freely throughout the zoo including peacocks and an Albino peacock which was very impressive to see.
The zoo also has a small reptile house that houses a few snakes and some local Puerto Rican reptiles including the local Puerto Rican Boa. There is also a butterfly house and arthropod house but these were both closed on our visit.
Taking a Break
Even though the zoo is not that large there is a reasonable amount of walking to do and with kids you probably will want to take a break and grab a drink and a snack. The good news, there are several covered seating areas throughout the zoo, some with drinks machines and some with snack vendors selling ice cream and drinks. There is also a small café selling hot dogs and hamburgers just past the aviary section of the park

Cost and Opening Times
Adults & children over 12 $13, children 5 -11 years old $8 and under 4 years it is free. There are reduced rates for seniors and it costs $3 for each car.
The zoo is open Wednesday – Sunday, 8:30am – 4:00pm
To get the most out of the zoo allow between 2-3 hours
For more information call 787-834-8110
Directions from San Juan
Hwy 22 west, then take PR 2 to Mayaguez. Just passed the Mayaguez Resort and Casino take the left fork of PR 2 towards the University of Puerto Rico Campus. Join PR 65 and then exit left onto PR 108. Stay on PR 108 and exit right onto road Cam Zoologico when you see the signs for Mayaguez Zoo. This will take you to the entrance and car park of the zoo.
From San Juan it will take you about 2.5 – 3 hours depending on traffic.
For folks staying on the west coast, this is a great way to spend a few hours and for folks staying around San Juan, head off early and make it a day trip and see more of what the west coast has to offer.
Nearby Attractions
Rincon, the Rincon Lighthouse and several beaches
Cabo Rojo and beaches
Joyuda Seafood Restaurants
Agauadilla and Isabella beaches