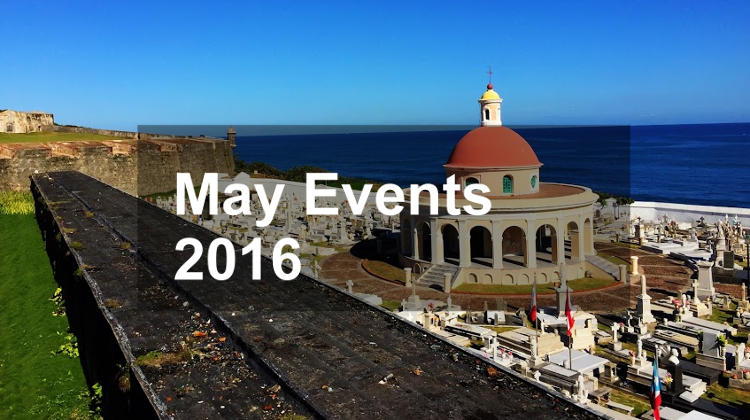 The temperature is rising here in Puerto Rico as the summer months approach and May is packed full of activities. Highlights include Puerto Rico Beer Fest, Puerto Rico Chocolate Festival and Puerto Rico Comic Con 2016
May 13 – 14, Puerto Rico Beer Fest, Old San Juan
Bahia Urbana in Old San Juan will host the 2016 Puerto Rico Beer Festival on Friday & Saturday May 13-14. The 2 day event will feature around 40 beer styles on Friday Evening and on Saturday expect to see around 80 beers including beers from Puerto Rico's booming Craft Beer Scene.
Both days will also feature live music from Pirulo and the Tribe, Black Guayaba, Mass E 'Gallo and other artists.
More Info: Facebook
May 14 – 15, Puerto Rico Chocolate Festival. Mayagüez
The Sports & Recreation Complex in Mayagüez will hold this years Puerto Rico Chocolate Festival. Featuring, chocolate, food, demo kitchens, mucis and more.
More Info: Website
May 20 – 22, Puerto Rico Comic Con 2016, San Juan
The Puerto Rico Convention Center in San Juan is home again for this year's 2016 Puerto Rico Comic Con. This is the biggest Comic Con in the Caribbean and features, local and international artists, exhibitors, games, conferences, cosplay and more.
More Info (and special guest announcements): Website
Other events in May
May 5 – 7, Orchid Festival, Dorado
The Dorado Agricultural Park will hold its annual orchid show
May 6 – 8: Pineapple Festival in Lajas
La Parguera in Lajas will host a pineapple festival, featuring food, music, artisans, and more.
May 8, Mother's Day
Treat your mum to something special while you are here in Puerto Rico.
May 14-15, Xplora Fest, San Juan
The Courtyard by Marriott will host this year's Xplora Festival featuring beach sports, music and more
May 26 – 30, Urban Fiesta Weekend 2016
Prepare for 4 Days of Complete Mayhem at the Urban Fiesta Weekend in San Juan. Events include:
Urban Fiesta Welcome Party, Style & Wag Fashion Show, Poets Lounge Hosted by Georgia Me, Shorts & Stilettos Night Party, Think Pink Beach Party and more
More Info: Website
May 29, Luquillo Beach Jazzfest
The town plaza in Luquillo will host its annual jazz festival
For more news on events happening in May and the rest of the year; check out our 'What's On Calendar', Twitter Page and Facebook Page
Note: All events are subject to change, so contact the event organizers for up to date information. Discovering Puerto Rico is not responsible for any schedule changes
Resource: Que Pasa Magazine, local media, PR Tourism Co.