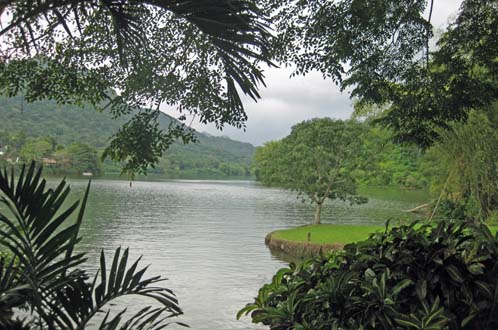 Lago Dos Bocas (Dos Bocas Lake) is located in the Utuado region of Puerto Rico and makes a great daytrip destination (weekends and public holidays). If you are looking for a relaxing time, great scenery and great food; then Lago Dos Bocas is a MUST.
Lago Dos Bocas is located just north of Utuado in the central mountain region of Puerto Rico. The drive from San Juan takes approximately 90 minutes (depending on traffic) and even though you will be heading into the central region, the roads to Lago Dos Bocas are very good. From San Juan head west on Highway 22 towards Arecibo, take Exit 75B and join Road 10 towards Utuado. Road 10 is a very scenic road and just before you exit Road 10 for the lake you will pass a scenic view point (unfortunately on our visit, the rain prevented from enjoying this spot). You will need to exit Road 10 (left) at Road 621. At this intersection you will see the brown signs for Lago Dos Bocas. Here you will find another scenic view point that in theory will give you great views of the lake and surrounding mountains. Regrettably when we stopped to check it out, we found the views were obscured by overgrown hedges (really disappointed). At the junction with Road 123 turn right and follow the signs to the car park and boats. There are several areas to park and on busy days there is usually someone helping to direct the cars to vacant spots.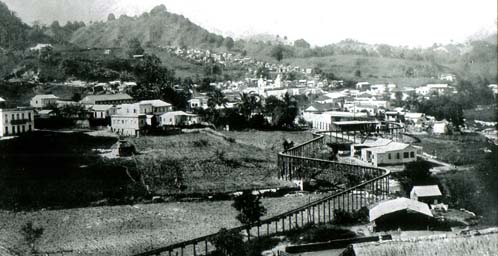 A bit of history: Back in the 19th century the area that is now Lagos Dos Bocas was once a coffee plantation. During this time, the area around Utuado was known for its coffee growing 'black gold' and towards the end of the 19th century Utuado was the largest coffee producer in Puerto Rico. Coffee growing around Utuado ended around 1899 due in part to the occupation of the island by the USA and also Huricane San Ciriaco which in 1899 wiped out the coffee plantations. In 1942 the Puerto Rico Electric Power Authority (PREPA) built a dam, flooded the area and constructed Lagos Dos Bocas. The lake originally held approximately 37.5 million cubic meters of water but current estimates show a much smaller volume of 18.0 million cubic meters, due sediment infilling
Today: There are currently four restaurants located on the shores of Lago Dos Bocas with plans for another three. All four restaurants; Rancho Marina, Restaurante Otoao, Restaurante Paisaje Escondide and El Fogon de Abuela are located south of the boat dock (car park) and each restaurant has their own FREE boat; so all you need to do is decide which one.
How do you decide?
As you make your way to the boat dock you will be greeted by representatives of the four restaurants who will hand you copies of their menus. Don't feel pressured, just take each menu and decide which one appeals to you the most. All four restaurants serve typical Puerto Rican dishes with appetizers costing between $3 – $9 and main courses starting around $11.


Once you have decided, the restaurant representative will phone ahead to let them know you are coming. The boats run continuously from late morning to late afternoon but I would suggest you get there around noon so you can enjoy the lake and have a relaxing lunch.
If you don't plan on eating, then you could always jump aboard one of the Department of Transport boats for a scenic tour around the lake, or if you are feeling energetic and have your own Kayak, use the slipway and kayak the lake.
We headed to Rancho Marina for lunch on board a small boat that would probably seat about 20 people (the boat had a canvas roof, but the sides were open to the elements). The restaurants are located at the southern end of the lake which means that you get a really long boat ride on the lake. The views from the boat (even on an overcast day) are spectacular. I really was not expecting such a long boast ride, so this was an added bonus.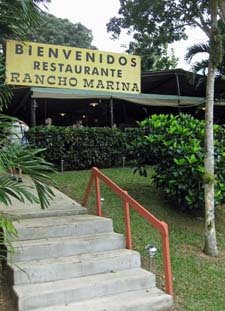 All four restaurants are located on the lake shore with outdoor and covered decks. Rancho Marina has a large covered dining area and smaller outside 'open air' dining deck. There is also a separate open area with patio seating and a very small children's play area
Rancho Marina's menu includes typical Puerto Rican dishes (here's a sample):
Appertizers:
Pastellios de Carne (meat turnovers)
Sorrullos de Maize (corn fritters)
Queso Frito (fried cheese)
Main Course:
Monfongo Relleno con Pollo, Camerones (Mashed Plantain stuffed with chicken or shrimps)
Masitas de Cerdo al Rancho (Fried pork chuncks with special house sauce)
Filite de Tilapia, Chillo en Salsa Criolla (Tilapia fillet or Red Snapper Fillit is Creole sauce)
Desserts:
Flan de Vainilla, Café, Queso (Vanilla or Coffee or Cheese Custards)
Needless to say, we did not leave the restaurant hungry…
After your meal you head back to your car the way you came, by boat. On the day we went the restaurant only had one boat running so you may have to wait several minutes for the boat to arrive.
Lago Dos Bocas had been on my 'to do' list for a long time. We had such a great time that I have decided to NOT cross it off my list, as there are at least another three restaurants to try, in the not so distant future.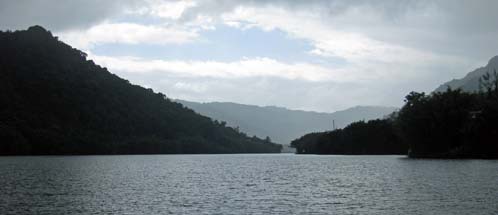 Nearby Attractions:
If you set off early enough you could also check out one of the following attractions: Arecibo Light House Park, Arecibo Observatory, Camuy Cave Park, The town of Utuado, Centro Ceremonial Indígena de Caguana and Lago Caonillas
What: Lago Dos Bocas
Where: just north of Utuado (off Road 10)
When: Saturdays and Sundays plus most holidays (for the restaurants – check for times). Daily from 6am – 5:30pm for the lake
What To Do: Eat at a lakeside restaurant, take a boat ride or go kayaking (bring your own)
Map It: You can find Lago Dos Bocas on our interactive map here
Directions: From San Juan. Hwy 22 west towards Arecibo. Take exit 75B, join Rd 10 south for Utuado. Exit left at Rd 621 (follow brown signs for Lago Dos Bocas) At junction with Rd 123 turn right and continue until you see the sign for the lakes car park
Resource: USGS and Wiki image