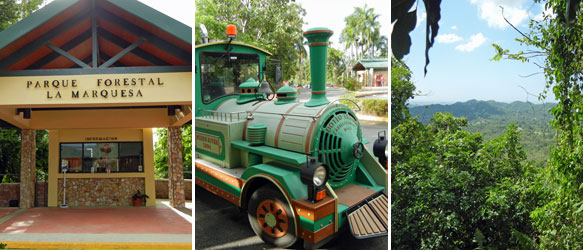 The La Marquesa Forest Park is a great place for locals and visitors to relax and explore the roughly 600 acres of forest reserve.
Located to the south of Guaynabo; a 15 – 20 minute drive south from San Juan, the La Marquesa Forest Park provides an invigorating outdoor escape with spectacular views of Guaynabo, San Juan Metro Area and the surrounding towns and countryside.
The park includes, a small trolley designed like a train which kids will love, that takes you around the various parts of the park, picnic areas, a couple of small children's playgrounds, and an observation tower.
Once you enter the park, you can jump on the trolley which will take you up towards the play areas and the observation tower or if you are feeling energetic you could skip the trolley and walk (but bear in mind it is UP HILL).
The trolley makes one quick stop a man-made waterfall that also provides great views of Guaynabo and the San Juan Metro Area. After a few minutes the trolley continues through the forest to its final stop.
At this point in the park there are clean bathrooms and a road that leads further uphill, taking you to the small children's playgrounds, picnic areas, as well as to the Observation Tower.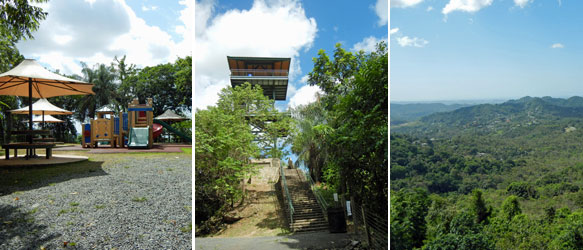 Playgrounds and Picnic Areas
The playgrounds are small but the kuds will enjoy them and the adults will enjoy the picnic tables with large umbrellas that provide welcome shade and a place to enjoy the breeze.
Note for locals: La Marquesa Forest Park is a great place to hold a birthday party….
Note for visitors: If you have your own transport and are planning on doing the Original Canopy Tour, then add the park to your list of things to do; it's right next door
Observation Tower
For those looking for the best views in the park, the Observation Tower sits at 1066 ft and is the place to go. The 70ft structure at the top of the hill (yes you have to walk even higher to get to it), provides fantastic 360 degree views of Guaynabo, the San Juan Metro Area, the north coast and the mountains that run through the central region of Puerto Rico.
Heading back to the entrance
To head back to the entrance, you can either take the trolley or head back along the gravel path through the forest.
Opening Soon….
The FIRST and ONLY Aerial Cable Car System in Puerto Rico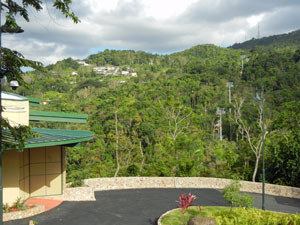 Scheduled to open in October 2012, the park will have the FIRST and ONLY aerial cable car system on the island that will transport visitors from the park entrance to the new aviary/butterfly house. The ride will also provide great views as it crosses above the trees.
We are looking forward to the opening of the cable cars and will be heading back there soon.
What: La Marquesa Forest Park (Parque Forestal La Marquesa)
Where: Guaynabo (south of San Juan)
When: Wedsnesdays – Sunday
Cost: Adults $3, Children $1, Cars $1
Directions from San Juan: Head south on RT 2 or RT 22 to RT 20. Stay on RT 20 until you pass a toll both on the opposite carriage way. Once past the toll both take the second exit (brown sign post for the park) and go straight across at the lights on to Rd 834. At the end of Rd 834 turn left onto Rd 835 which will take you to the park entrance.
Note once you get close to the exit on RT 20 there are brown signposts along the way for the park