La Bombonera in Old San Juan has been around for over 100 years, today it's still one of the most popular places with locals and visitors to grab a quick snack or a hearty meal. Famous for its Mallorcas; a buttery bread that is grilled and sprinkled with powdered sugar and filled with your choice of ham, egg, and cheese, or even plain. This sweet and savory combination is a must for anyone visiting La Bombonera. Along with Mallaorca's the menu includes typical Puerto Rican pastries, various filled sandwiches, tortillas, home-style Puerto Rican soups (Asapao) and typical Puerto Rican dishes.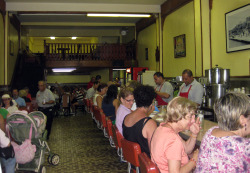 The layout of La Bombonera is old style diner, with counter seats and tables. The restaurant can be rather busy, but it's well worth the wait. The restaurant has been featured on television, several times, and was recently seen in Andrew Zimmern's Bizarre Foods episode on Puerto Rico.
From Sandwiches, soups to typical Puerto Rican main course dishes, the prices at La Bombonera are very reasonable. On a recent quick visit, a glass of fresh orange juice, coffee and a quesito came to $6.
What: La Bombonera Restautrant
Where: 259 Calle San Francisco, Old San Juan
Map It: La Bombonera