As the father of a very active 4 year old boy and 14 month old girl, one of the things I love about Old San Juan is the number of different things we can see and do that are fun for all the family and that are especially kid friendly.
For anyone heading here who is wondering how they will keep their kids occupied, look no further. Here is a list of kid friendly things to see and do in Old San Juan; which everyone in your family will enjoy: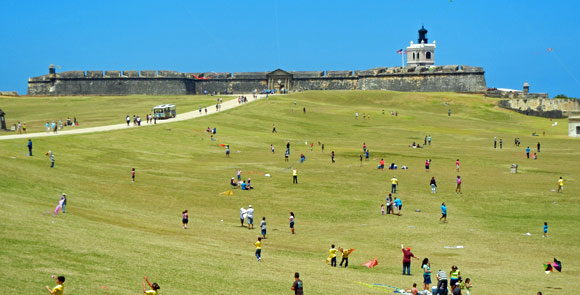 El Morro Fort
This is our number 1 go to spot in Old San Juan. Standing at the entrance to San Juan Bay, El Morro Fort is just an awesome site that kids of all ages will enjoy exploring. The fort has several levels to explore as well as a lighthouse. You can either tour the fort on your own or join one of the ranger orientation talks (offered daily) or weekend ranger led guided tours of the lighthouse.
On the 3rd Sunday of each month, kids can check out the interactive storytelling and canon firing that takes place between 10am – 3pm
El Morro Esplanade
The esplanade is the large grass covered area in front of El Morro Fort that is hugely popular with families and for good reason. It's a great spot to have a family picnic, fly a kite, play soccer, throw a frisbees around or just have your kids running around burning off some of that excess energy that they have.
Ask yourself, when was the last time you flew a kite in the shadows of a 400 year old Spanish Fortification?
Go on make it happen the next time you are in Old San Juan.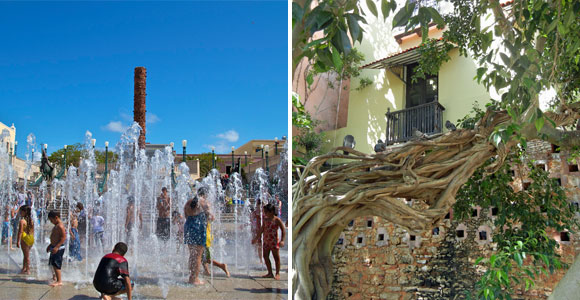 Plaza Centennial
May not be a place that you would have considered but this large open plaza means your kids can run and play without worrying about the traffic. It also has the added bonus of an extremely popular (with kids and adults alike) water feature with several water spouts that shoot water into the air. It's a great spot for your kids to play and cool down at the same time.
Parque de las Palomas (Pigeon Park)
Located at the end of Calle San Cristo, next to Capilla del Cristo, this small area gives you the chance to escape the Old San Juan streets for a while and watch your kids chase after the pigeons that call Parque de las Palomas their home. Here, you will usually find someone selling bird food for around $1 so that your kids can also feed the pigeons. Don't forget to point out to your kids the man-made holes in the walls, where the pigeons hang out.
The park also provides some great views of San Juan Bay.
Paseo de la Princesa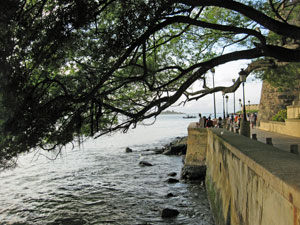 Another favorite, Paseo de la Princesa is the tree lined promenade that follows the city walls along the San Juan Bay to the San Juan Gate. On weekends it is busy with artisans, musicians and street vendors and makes for a great spot to just wander. The path to the San Juan Gate offers plenty of shade and great views of the city walls and the boats sailing in the bay.
Paseo del Morro
The continuation of Paseo de la Princesa gives your kids the chance to see the city walls and El Morro from virtually sea level. The walk is really enjoyable with great views cross San Juan Bay. It's worth pointing out that this section of the walk offers less shade, especially in the afternoons.
Note as of April 2012, it is not possible to walk the full length of Paseo del Morro due to a recent rock slide.
San Cristobal Fort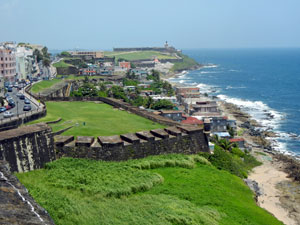 Another fort that your kids will love exploring; San Cristobal Fort like El Morro has several levels and offers great views of the San Juan coast and the city of Old San Juan. You can tour the fort on your own, take a ranger orientation talk (offered daily) or tour the tunnels or outer works with a ranger (weekends only).
Old San Juan Trolley Ride
The old San Juan trolley is a good way to get to or from El Morro especially if you have small children and the added bonus it's FREE. The only downside to the trolley is that it can be quite hard to find an empty seat.
The route to El Morro has some really great views as it takes you up from the cruise ship piers out along past the Capitol Building, up towards San Cristobal Fort and along to El Morro Fort. You can jump on and off at the various stop, just remember if you decide to do this you may have to wait a while for the next trolley with enough available seats.
Old San Juan Segway Tour
If your kids are old enough (minimum weight is around 90lbs), then a Segway tour of Old San Juan is not only educational but a whole lot of fun too. It will certainly be something that they will tell their friends when they get home. The tour last from 45mins – 2 hours depending on the tour and take in the major sites around the city.
Plazas
Scattered around Old San Juan you will find open air plazas both big and small. These make for a great spot to take a break from walking around, while you let your kids run around.
Special Events and Festivals
Throughout the year you will find special events and festivals taking place around Old San Juan and most will have some element that will be suitable for children. Events like:
San Sebastian Street Festival (daytime only)
El Morro Kite Festival
El Morro Pet Festival
Battle of San Juan 1697 Re-enactment
Christmas Boat Parade
Are just a few of the events taking place throughout the year in Old San Juan
Food and Drink
It gets hot here in Puerto Rico and Old San Juan is no exception; you need to make sure you and your kids are well hydrated. There are plenty of roadside stalls where you can pick up water, drinks and snacks, but why not try something traditional from Puerto Rico; a Piragua (flavored shaved ice) or a Pina Colada (alcohol free).
Rain
If you are unfortunate to get caught in a rain shower, jump inside the nearest shop or restaurant and wait for the rain to pass (usually relatively quickly) and then head back out to enjoy the sunshine.
If it looks like the rain is here to stay for a while you could always check out one of the many museums located throughout the city.
Finally, one of the best things about Old San Juan is the fact that it is easy to walk around and explore. There are plenty of things that you can do as a family no matter what the age ranges. So just explore and have fun.
So how about you, what places do you recommend in Old San Juan for families with children?
Photo: Plaza Centennial by Antonio Rivera using Creative Commons License