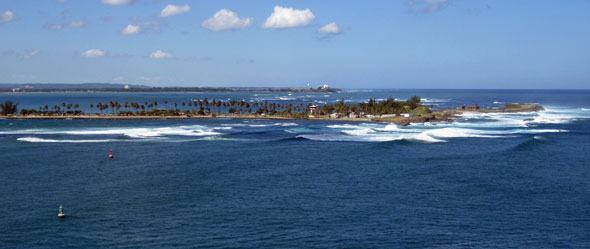 Situated at the mouth of the San Juan Bay across from El Morro Fort, Isla de Cabras (Goat Island) was a key component of San Juan defenses and became the home for a small strong hold known as El Cañuelo (San Juan de la Cruz) that was built in the early1500's and replaced by the current structure in 1660. Isla de Cabras was also home to a small leper colony between 1800's – 1900's.
Today Isla de Cabras is a popular weekend spot for locals, who go to enjoy the water access, picnic and bbq shelters and great views of El Morro Fort and Old San Juan.
Once you enter the Isla de Cabras parking area (and paid the $5 parking fee), you will pass the well preserved structure of the El Cañuelo fort. The fort is currently part of the San Juan National Historic Site, though for some reason it is currently not open to the public, though you can however walk up close to the fort and find out more information from the information boards.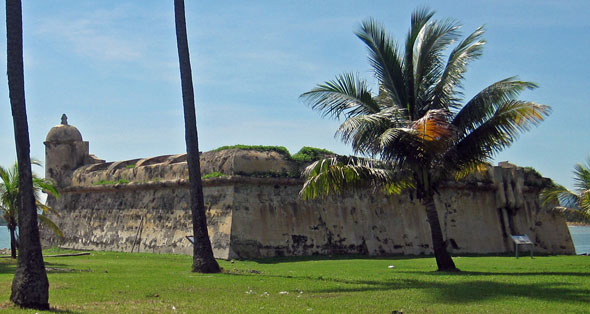 Past the fort you will see several large picnic shelters that can be reserved, a small children's play area as well as a small snack bar with restrooms. There is also a boat ramp for those wanting to launch watercraft.
To the north end of the parking you will find the remains of some WWII gun placements, similar to those found in and around El Morro Fort as well as the remains of some of the buildings that housed the leper colony.
So is it Worth the Trip to Isla de Cabras and the $5 parking fee?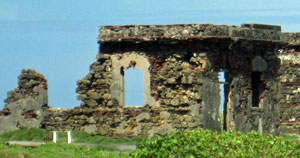 If you have a few hours to spare and the weather is crystal clear, then Isla de Cabras offers some great views of El Morro Fort, Old San Juan and the San Juan Bay.
It's close to the Bacardi Factory, so it is easy to add Isla de Cabras as a quick stop if you have transport.
But, if you are looking for a place to hang out that is west of San Juan, then I would highly recommend that you skip Isla de Cabras and drive further west to the Manati area of Puerto Rico and visit Mar Chiquita Beach
What: Isla de Cabras
Where: Across the San Juan Bay from Old San Juan
Directions: From San Juan, Take Route 22 west to exit 7a and follow Route 165 to Route 870 east and follow it to the end and the Isla de Cabras car park.