Guavate located south of San Juan is not the only place on the island for find great lechon (roast pork), but it's probably the most well known (it's even been featured on the Anthony Bourdain No Reservations TV show). If you are looking for an authentic, popular with the local place then head to Guavate on a Saturday or Sunday.

The area is inundated with lechoneras (roadside cafeterias) whose specialty is seasoned slow roasted whole pig. Traditionally the pig is roasted over an open flame mounted on on a wooden spit called a varita, but now must use a steel spit. The pig is usually roasted for about 6 – 8 hours which ensures that the pork is pact with flavor, moist and tender. The roast pig is not the only delicacy on the menu; as you will find roast chicken, turkey, morcella (blood sausage) and numerous side dishes, including: rice and beans, rice with pigeon peas, tostones, mofungo, sweet potato and many more. If you happen to be there during the Christmas period you will also see pasteles, arroz con dulce and Puerto Rico's very own egg nog 'coquito'.
The main road up and through Guavate is lined with lechoneras, so you will have plenty of choices. Look for one that is busy and lively and then try to find parking at the side of the road close by.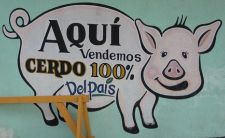 Note: The road which is known locally as 'La Ruta del Lechon' is fairly winding and can become busy on weekends, so drive carefully.
The lechoneras in the area are cafeteria style with indoor and outdoor seating, where you line up and select what you would like from the counters. Once you have chosen your food, find a table and dig in.
Weekends are the best time to go if you really want to savor the atmosphere of the area, but even during the week you will find some of the lechoneras open.
What: Lechon (roast pig)
Where: Lechoneras in Guavate
When: Weekends are best before 12pm (but some are open during the week)
Map It
Directions from San Juan:
Take Highway 52) south and take exit 32 (Guavate). Make a left and head up Rd 184. You will find lechonaras all along the route with some of the most popular around km. 27.
Enjoy!!!