Looking for something a little bit different, tasty even… then why not check out one of the Flavors of San Juan Food Tours.
Personally, I have not had the chance to take one of their tours, but with over 200+ 5 Star reviews on TripAdvisor, Flavors of San Juan is one of the most popular tours that you can take in Old San Juan / San Juan.
Leslie who owns Flavors of San Juan say's this about their tours
'A city's most defining characteristics are its food, architecture and cultural traditions. We want our guests to savor all these at the same time, to literally eat their way Old San Juan, while learning the path it took to greatness. We try to give each guest an exclusive taste of local food at restaurants off the beaten path in Old San Juan. Our goal is to get them away from the tourist traps to discover the history, the sweet secrets, and the savory enclaves that San Juaneros call home'
So what tours can you take?
Old San Juan History and Food Tours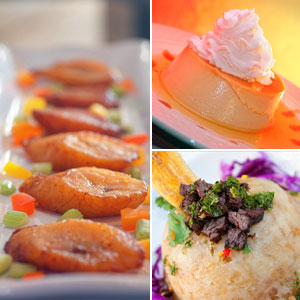 Two food tours are offered; a Foodie Lunch Tour and a Signature Dinner Tour. Both tours combine great tasting local Puerto Rican dishes with first hand local knowledge of Old San Juan
Foodie Lunch Tour
During the 2hr tour, you will visit three restaurants in Old San Juan serving great Puerto Rican foods where you will enjoy a three course meal (appetizer, main course, dessert and 1 alcoholic drink). As you stroll between restaurants your guide will give you the inside scoop to the local culture, architecture and history of Old San Juan
Cost per person: $69
Signature Dinner Tour
During the 2.5hr tour, tour will visit four restaurants in Old San Juan where you will enjoy a typical Puerto Rican dinner and drinks. Again, as you move between restaurants, you will learn about the local culture, history and architecture of Old San Juan.
Cost per person: $79
Some of the restaurants that you could visit include:
Aromas Coffee House
Blizz Yogurt
Cafe El Punto
Café La Princesa
Caficultura
Carli's
Old Harbor Brewery
Ole Hat Shop
Rosa De Triana
San Germain Café
If you would like to do more than just eat, then take a look at the Flavors of San Juan cooking class
Serious Puerto Rican Cooking Class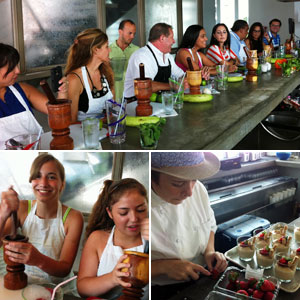 This is the tour to take if you want to find out HOW to make those delicious Puerto Rican foods; it's hands on and of course you get to eat what you make.
During the 2-4 hour class, you will have the opportunity to prepare your own Puerto Rican dishes, following directions from a local Puerto Rican Chef. At the end of the class, you will have some firsthand experience of making typical Puerto Rican foods and of course you get to eat them too.
Typical Dishes that you might prepare:
Rum mojito cocktail/ coke products
Sofrito (base of all our local food)
Plantain mofongo stuffed with chicken criollo sauce
Tembleque (local custard style dessert)
Classes are suitable for ages 10 and above, so would be ideal for some family fun.
Cost depends on the time of year.
Note: Flavors of San Juan also offer Private Tours and Cooking Classes if you would prefer a more intimate experience
To get a feel of a typical food tour, take a look at the Tennis Channels video
What: Flavors of San Juan, Food Tours and Cooking Classes
Where: Food Tours in Old San Juan, Puerto Rico Cooking Classes at a local San Juan Restaurant
Cost: Food Tours ($69-$79), Cooking Classes (call for prices)
More Info: Flavors of San Juan
Tel: 787-964-2447
If you have been on one of their tours, why not post a short review in the comments below.
Photos: Copyright photos reproduced with the permission of Flavors of San Juan