If you happen to be spending fathers day in Puerto Rico, here are a few ideas to give your dad a great time on this special day.
Adventurous Dad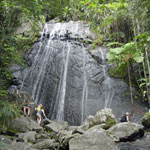 For those dads that like a bit of an adrenalin rush, why not treat them to an adventure at one of the many zip line tours here in Puerto Rico. There are tour operators based all over the island with most of them providing transportation options from the San Juan Metro Area. For something extra special consider the new 'Monster' zipline at Toroverde; currently the LONGEST zipline in the world
If zip lining sounds too extreme, then why not take your dad on a hike through the trails of El Yunque Rainforest. There are trails for all levels of fitness, so there is no excuse for not exploring the great outdoors.
If being on or under the water is more your dads thing, then check out a kayak & snorkeling tour or even a half day scuba diving. Again there are tour operators around the island that offer half-day and full-day tours.
Don't forget an unforgettable biobay trip, if the moon phase is good
Relaxing Dad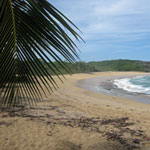 For those dads that prefer to leave the adventures to others, why not head to the beach for the day. For those in the San Juan Area, you could check out Isla Verde Beach, Carolina Beach or Escambron Beach.
If you have a rental car consider heading east to Luquillo Beach or Seven Seas Beach near Fajardo. If you are one the west coast why not check out Crash Boat Beach in Aguadilla, one of the popular surfers beaches in Rincon or Playula Beach near Cabo Rojo
If you have the time head over to Culebra or Vieques islands for some stunning beaches.
Foodie Dad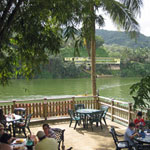 If your dad likes his food, treat him to a special dinner. In San Juan, head to Pikayo at the Conrad Plaza Hotel or Perla at the La Concha Hotel, or If you are looking for something more local and low key, head out to Pinones and try the food kiosks or the ocean front restaurants; The Waterfront or the Soleil Beach Club,
Outside of San Juan, check with the locals to find out there recommendations for a great place to eat.
And, if your dad is a pork lover, then definitely head over to Guavate, where you will find great Lechon, local Puerto Rican foods, music and lively atmosphere. Just make sure you get there early, as Guavate is one place that will be extremely busy on Fathers day.
Cultural Dad
For those dads that prefer a little culture, check out one of the many museums around the island, or head into Old San Juan to check out the forts and maybe catch some local musicians playing on Paseo de la Princesa.
If your dad is a dancer, then try Nuyorican Cafein Old San Juan for some Salsa, or hit one of the larger hotels in Condado or Isla Verde where you will usually find live music and dancing at night on weekends.
Whatever you do this Fathers Day, have a great time doing it.