The 8th Annual Artisan Fair at Castillo San Felipe Del Morro (El Morro Fort) will be held on Friday July 20 to Sunday July 22, 2012.
Over 150 artisans from around the island will be showcasing their work on the esplanade of El Morro Fort, from 9am – 6pm each day.
At this year's fair, there will be a special emphasis on children with demonstrations and events geared towards them.



Each day (9qm – 6pm) there will be:
Live demonstrations from various artisans
Live local music
Ranger Talks on the history of San Juan famous forts
Interpretive programs on local culture, musical instruments, games and crafts



As an added bonus on the weekends leading up to the Artisan Fair (June 9 – July 11), artisans will be displaying their work inside El Morro Fort from 9am – 6pm Saturday / Sunday.
The El Morro Artisan Fair is a great showcase for local artists and craftsman from around Puerto Rico; so if you have the chance, it is well worth checking out.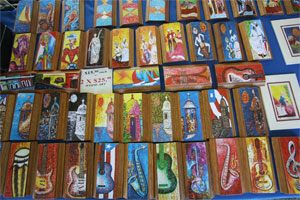 If you can't make the Artisan fair make sure to add El Morro Fort and San Cristobal Fort to your Puerto Rico MUST SEE list
What: 8th Annual Artisan Fair at Castillo San Felipe Del Morro (El Morro Fort)
Where: El Morro Fort, Old San Juan
When: Friday July 20 to Sunday July 22, 2012 from 9am – 6pm
Cost: Free to view, $ to buy things
You can find the original press release here