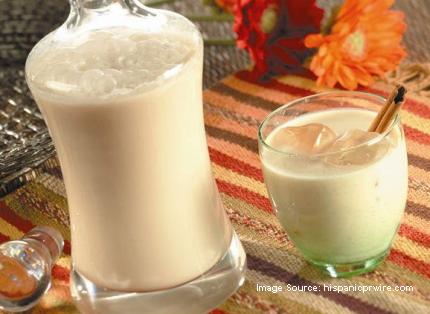 Here in Puerto Rico there are many traditional foods and drinks that appear over the Christmas Holiday Season and Coquito is one of my favorites.
Coquito is Puerto Rico's Christmas eggnog and it is delicious. If you are here in Puerto Rico over the Christmas period, more than likely you will be offered a glass or two during your stay. If you are unfortunate, to be elsewhere, you can always make your own.
The following recipe is taken from 'A Taste of Puerto Rico
' by Yvonne Ortiz (one of my favorite Puerto Rican Cook Books).

Coquito Ingredients (makes 5 cups):
1 cup of coconut milk
1 cup sweetened condensed milk
1 cup evaporated milk
1 cup white rum
1 cup of water
3 cinnamon sticks
4 egg yolks, well beaten
Ground cinnamon for decoration
Recipe:
In a blender or food processor combine the milks and the rum.
Boil the water and the cinnamon sticks, then allow to cool to room temperature (don't forget to remove cinnamon sticks),
Combine all of the ingredients (except ground cinnamon) and beat well using a blender or food processor.
Pour the Coquito into glass bottles and refrigerate until you are ready to drink.
Serve the chilled Coquito and add cinnamon to decorate
Enjoy…