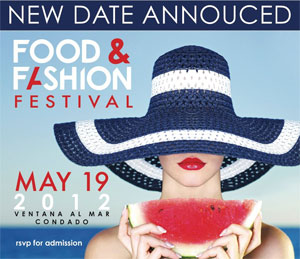 UPDATE: NEW DATE – May 19 2012
Unfortunately Chef Anne Burrell will not be appearing at the revised event.
An exciting fusion of Food, Music and Fashion will be on show Saturday Mar 31, 2012 at La Ventena del Mar in Condado. The Condado Food and Fashion Festival is a new event on the ever expanding festival scene here in Puerto Rico and one that will hopefully turn into an annual event.
During the day you will be able to sample 'gourmet' street food from some of the best restaurants in San Juan. Restaurants participating include: Augusto's, Bar Gitano, Bartola, Bistro 606, Caramelo, Casa Lola, Cocina Abierta, Laurel, Lima, Ropa Vieja and more.
Chef Roberto Treviño will be showcasing his culinary skills as he headlines the cooking demonstrations, along with Chef Mario Pagán, Chef Cynthia Negrón and several local Puerto Rican chefs
There will be Fashion show featuring top Puerto Rican fashion designers: Ashley Cervantes, David Antonio, Gustavo Arango, José Raúl, Lisa Cappalli, Lisa Thon, Rubén Darío, Verónika Pagán. and more…
If that wasn't enough, the event will feature music by Music by Lady Gaga's former DJ VH1, Brooklyn Party Maestro Sammy Bananas as well as local DJ's the Z Boys
The event kicks off at 12pm and is expected to end around 11pm
If you plan on going to the Condado Food and Fashion Festival you should RSVP on their Facebook events page
The combination of food, fashion and music should make this a great event and one not to be missed.
What: Condado Food and Fashion Festival
Where: Ventana del Mar, Condado
When: Saturday Marach 31, 2012 – 12pm – 11pm