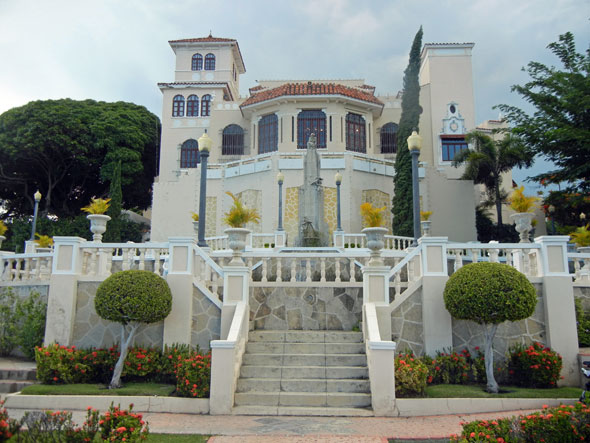 Castillo Serralles in Ponce or Serralles Castle to give its English translation is the Grand House that rum built. The house was built back in the 1930's by the Serralles family who made their money growing sugar cane, running a sugar mill and producing fine Puerto Rican rum. They chose to build their house on a hill giving spectacular views of the city of Ponce, the Caribbean Sea and more.
Today the house is a museum giving visitors an insight into the life of the Serralles Family from the 1930's. Virtually all of the furniture and paintings on display are originals. Stepping into Castillo Serralles is like stepping back in time.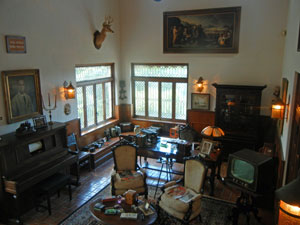 Tours of the house are given in both Spanish and English and usually begin on the hour and half hour and it is a good idea to phone ahead especially if you would like the English version of the tour. Each tour covers the main house as well as the nearby Butterfly Garden and last for about 60-90 minutes depending on the number of people in the group.
Entrance to the house is through the small cafe (the outside seating area has some great views of Ponce and the Caribbean Sea). The café contains several antiques, including an old jukebox as well as displays of Puerto Rican rum bottles and rum memorabilia.
Each tour starts with a short video that highlights some of the history of the Serralles family, sugar cane growing and rum making and this is followed by an extensive tour of Castillo Serralles. The tour starts with a quick detour to the Butterfly Garden and then back to the house for a tour of the various rooms of the house including; the grand entrance, dining room, kitchen, covered fountain, bedrooms and the upstairs patio deck that offers you amazing views of the gardens, Ponce and the Caribbean Sea.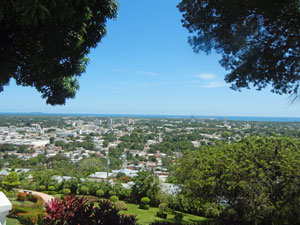 At the end of the tour you can check out the small gift shop, wine cellar and don't' forget to take a walk through the beautiful garden terraces.
If you are planning a trip to Ponce then I highly recommend that you include a visit to Castillo Serralles.
While visiting the house you can also purchase a combination ticket to visit the Vigia Cross and Japanese Gardens, which are just a bit further up the hill.
If you can't make it all the way to Ponce you can find out about the Serralles family at the Don Q Museum in Old San Juan.
What: Castillo Serralles
Where: Ponce
When: Thursday – Sunday 9:30am – 6:30pm
Cost: House and gardens $8.50 (adults), $4.25 (children and seniors). House, Vigia Cross and Japanese Gardens $12.80 (adults) $5.50 (children), $6.40 (seniors)