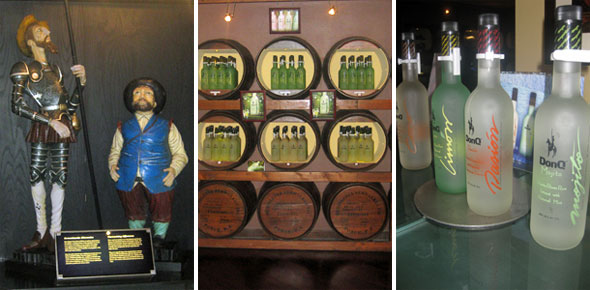 Casa Don Q in Old San Juan is a small information center, where you find out about rum making and the history of Don Q rum. Casa Don Q is located across from Pier 1, right next door to the Puerto Rico Tourism Office.
There are several exhibits and a replica still but the showcase of this museum is the 'FREE Don Q Rum Bar'…Yes, you read that correctly a FREE Don Q Rum Bar. Once you have seen the various exhibits and information boards (or feel free to skip them) , the professional bartenders will explain the various rums and mixes; you just have to choose which one(s) to try.
As well as the free rum bar, there is also a small selection of Don Q rum products on sale.
It's only small, but a great way to try this popular Puerto Rican rum and it's also a good way to get out of the San Juan heat for a few minutes
Opening hours:
Nov 1 – April 30, Monday – Wednesday, 11:00am – 8:00pm, Friday – Sunday, 9:00am – 6:00pm
May 1 – October 31,Monday – Friday, 9:00am – 6:00pm., closed Saturday and Sunday
Added Bonus: You can also visit the Puerto Rico Tourism Office next door for another FREE rum drink. Here you will find both Don Q Rum and Bacardi Rum for tasting