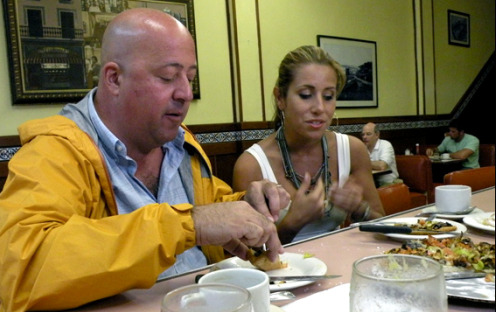 A couple of months ago the Travel Channel's Bizarre Foods with Andrew Zimmern visited the island of Puerto Rico to film an episode for the current series.
On June 9, 2009 at 10pm EST you can see Bizarre Foods with Andrew Zimmern in Puerto Rico on the Travel Channel.
On his tour of Puerto Rico Andrew, discovers the flavors and history of the island; 'from the deep-fried treats brought in by Africans to the roasted pork made popular by the Spanish'.
So where did Andrew go on his culinary tour of Puerto Rico?

Old San Juan
Here he visited one of the oldest bakeries on the island and one that is popular with locals and a MUST for any one visiting Old San Juan; La Bombanera. Here he tried a local favorite Mallorcas (a Spanish pastry) and Cocas which are similar to pizza, with vegetables and sardines.
While in Old San Juan, Andrew is joined by his friend and chef Wilo Benet. They tour Old San Juan on Segways annd enjoy a Tripleta. A sandwich made with ham, chicken and beef with mayo, ketchup, fries and lettuce and tomato
Rio Piedras
At Plaza del Mercado de Rio Piedras he meets chef Maira Isabel and checks out the local market where he tries: Mavi , a drink made from sugar and tree bark, Corazon, a fibrous fruit with a creamy flavor and Caimitos (star apple)
Guavate Area
Bizzare Foods with Andrew Zimmern would not be complete without tasting some Pork and Puerto Rico did not disappoint. In the Guavate area (home of the lechon) the show stopped off at El Rancho Original, where Andrew tried some of the local favorites: Roasted Pork, Roasted Pig Ears, Roasted Pig Tail, Roasted Pig Leg, Roasted Pig Nose.
San Lorenzo
Here they stop at a food stand and sample some Rabbit, more Roasted Pork and some White Rice with Salt Pork
Arecibo
At El Nuevo Guayabo he samples some Ceti Empanadas, which are tiny fish mixed with corn, plantains and pumpkin
Lares
The small town of Lares is known locally for it's Ice Cream shop. As well as regular flavors the shop also sells some strange flavors. In Lares Andrew tries several including Sesame Seed Ice Cream, Cod Fish Ice Cream, Garlic Ice Cream, Corn Ice Cream and Sea Grape Ice Cream
Pinones
Pinones is located just east of San Juan and here Andrew samples some Mofongo from one of the roadside Kiosks
Toro Negro National Forest
After hiking in the rainforest the show stops at a local families house where Andrew samples a home cooked meal that includes: Gandinga (a stew made with pig heart, liver, kidneys and lungs), some Guinea Fowl, some Deep-Fried Pork and some Morcilla (blood sausage)
Pikayo Restaurant
At Pikayo Chef Wilo Benet serves up his own take on Puerto Rican cusine with dishes such as Pigs Feet Stew and Alcapurria with Land Crab
So don't forget to set your DVR for 10pm EST on the Travel Channel. Here's a quick clip
Resources: Bizarre Foods with Andrew Zimmern