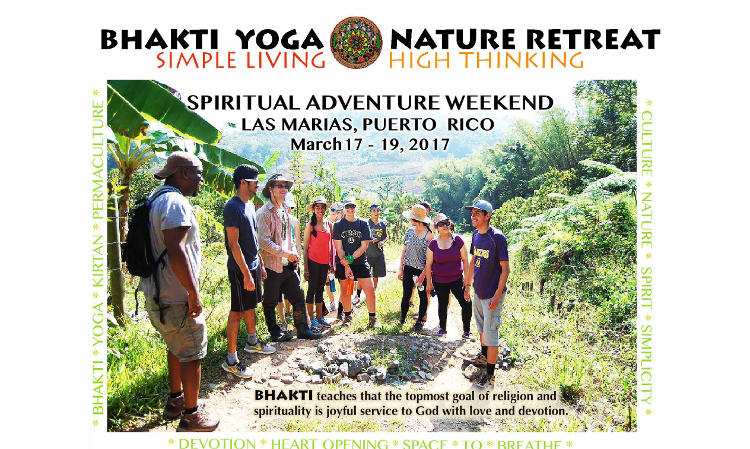 March 17-19 head to Plenitud Eco Farm in Las Marias and immerse yourself in tropical paradise and learn the art of mystic India's spiritual teachings in the lush, inspiring setting of Plenitud eco farm and permaculture center.
The cost is $130pp all inclusive (tent site, workshops, vegetarian cuisine, yoga, spiritual philosophy, kirtan sacred sounds music and more! (Bring your own tent and gear.) One day option $45/$25 students.
Special guests at this this retreat, we will be musician Bada Hari, a master and singer with 40 years of experience playing devotional music from India and practicing Bhakti Yoga.
In addition, there will be participation of different teachers of hatha yoga and excellent chefs creating a varied vegetarian menu.
Bhakti Yoga Retreat Program:
Friday, March 17
4:00pm en adelante – Recibir participantes (Arrival)
6:30-7:30 – Introducción al retiro y Kritan de Bienvenida (Welcoming & Kirtan)
7:30-8:30 – Cena (Dinner)
Saturday March 18
5:30-6:45 – Meditación (Opcional)
7:00-8:00 – Desayuno (Breakfast)
8:00- 9:00 – Introducción a la meditación con mantras (Japa y Kirtan)
—Los participantes del pasadía se intregran—
9:15- 10:30 – Hatha Yoga
10:45- 12:30 – Clases de cocina vegetariana (Cooking class)
12:45-1:45 – Banquete vegetariano (Lunch)
2:00-3:00 – Caminata y meditación en el río (River hike)
3:15-4:00 – Intoducción a la musica devocional, "kirtan" (Kirtan and Bhakti Yoga workshop)
—Los participantes del pasadía se despiden—
4:15-5:30 – Tiempo libre o electiva: clase de hatha yoga o permacultura
6:30-7:30 – Cena (Dinner)
7:45 – Kirtan
Sunday, March 19
5:30-6:45 – Meditación (Opcional)
7:00-8:00 – Desayuno (Breakfast)
8:00- 9:00 – Introducción a la meditacion con mantras (Japa y Kirtan)
—Los participantes del pasadía se intregran—
9:15- 11:30 – Pranayama, hatha yoga
11:45- 12:30 – Taller de musica devocional, o "Kirtan" (Kirtan & Bhakti Workshop)
12:45-1:45 – Banquete vegetariano (Vegetarian dinner)
2:00-3:00 – Caminata y meditación en el río (River walk)
3:15-4:00 – Música devocional, o "Kirtan" (Kirtan experience)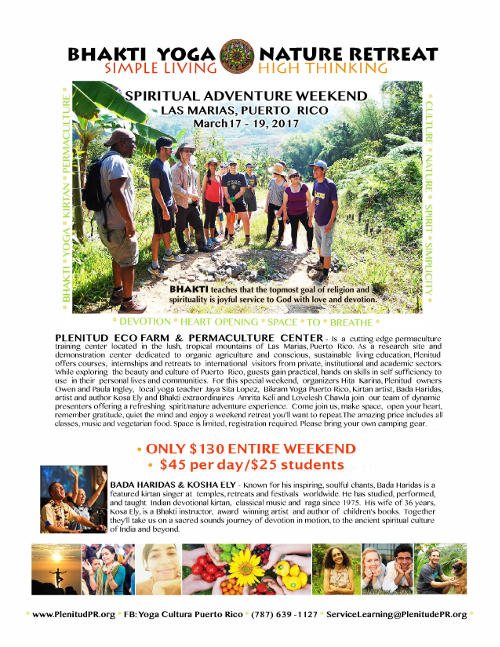 Reserve your space or more information at: PlentitudPR or call (787) 639-1127/(787) 247-1966 or email e-mail: info@plenitudpr.org
Bhakti Yoga Retreat
When: mar 17-19, 2017
Location: Plenitud Eco Farm, Las Marias
More Info: Facebook & PlentitudPR