In part 3 of our alternative ideas for Puerto Rico series we'll head away from San Juan to the foothills of El Yunque rainforest to explore the lush greenness by All Terrain Vehicle (ATV) and then head to ocean to kayak and snorkel on an Aquafari.
Hacienda Carabali ATV Tours of the Foothills of El Yunque
If you have already explored the trails in the El Yunque rainforest or you would rather try something a little faster than walking, then why not consider a tour of the foothills of El Yunque on an All Terrain Vehicle (ATV).

Hacienda Carabali operates on 600 acres in the foothills of the El Yunque Rainforest and offer a range of activities from mountain biking, horse riding and ATV's. that allow you to explore more of the El Yunque area.
The ATV tours come in 2 packages:
1 hour tour is $40 per driver, and $20 per passenger
2 hour tour is $75 per driver, and $45 per passenger
If you wish to get wet as well as dirty, you will have the opportunity to swim in the Mameyes river during your tour.
ATV tours start at 9:30am, 12:30pm and 2:30pm. But chances' are that if you would like a tour at a different time they might be able to schedule one for you.
Drivers of the ATV's must be at least 16 years old and passengers must be at least 8 years old.
As this is an off road experience be prepared to get dirty. Don't worry as there are men's and woman's changing / shower facilities, for after your ride.
Hacienda Carabali are located just of the main Route 3 highway in Luquillo on Road 922, km 4. Driving time from San Juan will be about 45 minutes. Transportation can be provided at an extra cost.
Contact Hacienda Carabali at 787-889-5820 or 787-690-3781
Aquafari with Kayaking Puerto Rico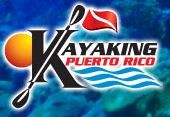 If the ocean is more your scene, then check out Kayaking Puerto Rico for an Aquafari.
There are 2 Aquafari's available; 2.5 hours and 3.5 hours. Both include kayaking, snorkeling and a beach stop.
2.5 hour Aquafari
You will have 2.5 hours to kayak and snorkel the Seven Seas Bay in Fajardo. You will kayak the coastline of the 'Las Cabezas de San Juan Nature Reserve' and have great views of the El Yunque rainforest from the ocean.
You will then have the opportunity to snorkel the coral reefs before heading to Playa Escondida (Hidden Beach) for time to relax with snacks and refreshments.
The 2.5 hour Aquafari is suitable for everyone over the age of 6.
Costs: $55 per person and there must be a minimum of 6 people for the tour to operate
Tours start at 10am and 1:30pm
3.5 hour Aquafari
This longer tour is designed for the more adventurous traveler and adds a second snorkeling destination and includes a tropical picnic at the beach.
Due to the longer duration, this tour is suitable for intermediate level snorkelers in good physical condition. The minimum age for the 3.5 hour Aquafari is 12yrs.
Cost: $69 per person and there must be a minimum of 6 people for the tour to operate
Tour starts at 10am
Departure point for the Aquafari is from La Cabeza Bay (past the El Conquistador Resort). If you need transportation, Kayaking Puerto Rico will provide this at an extra cost depending on your location.
Kayaking Puerto Rico also offer Bio Bay and El Yunque rainforest tours that can be done separately or combined with a kayak adventure.
For more information see Kayaking Puerto Rico