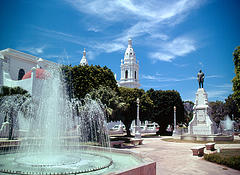 Ponce is located on the south side of Puerto Rico, approximately 60-90 minutes by car (traffic permitting). The fastest route from San Juan is to head south on expressway #52. This is a toll road, but it is much faster than taking route #1. The drive is extremely scenic and there are a couple of stopping points along the way, to allow you to capture the scenery. As you drive south you will see the landscape change from green mountainous to more flat arid landscape.

Ponce has a lot to offer and you can easily spend the day (if not more) there enjoying all that it has to offer. Here are 5 things to get you started:
Museo de Arte de Ponce
25 Av de Las Américas, Ponce, Puerto Rico • 787-848-0505
People drive to Ponce just to visit the museum, as it boasts the most extensive collection of European and Latin art in the Caribbean. The museum was designed by Edward Durall Stone, who was one of the builders of New York's Museum of Modern Art. The museums extensive collection includes over 1,000 paintings and 400 sculptures
Plaza Las Delicias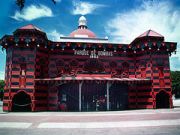 This is the cities main plaza that is divided into 2 sections; Plaza Munoza Rivera and Plaza Gegetau. Here you will find historic buildings and the cathedral. A large fountain with two large bronze lions is one of the major attractions of the plaza. This is a great place to relax with a drink and watch the locals go about there day to day business
Ponce Trolley
If you are pressed for time and want to see as much of Ponce as possible; then the free trolley service is a good option. The trolleys make stops throughout the city and you can jump on and off as you like.
El Vigía Hill
This is in the north section of Ponce and is the location of the a 100 feet high by 70 feet wide concrete cross; The "Virgin's Cross" (Cruz del Vigia). The cross was built in 1984 and replaced an earlier wooden cross. The cross is a memorial to the Spanish garrison that lived on the hill to watch for smugglers' ships attempting to unload contraband on the shores of Puerto Rico
La Guancha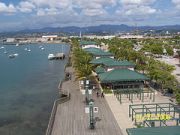 This is the beachfront boardwalk located about 3 miles south of Ponce. Here you can walk by the estuary and enjoy the sights of the yachts that are moored there. La Guancha can become extremely busy and lively on a weekend, with the bars and restaurants serving good food and drinks.
I hope this has given you a taste of what Ponce can offer and I hope you enjoy your time there. Don't forget to see the old Ponce Fire Station while you are there.
Image Source boricua491000 and falconpr75's