It's that time of year when German beer and food are celebrated around the world. So it must be time to celebrate Oktoberfest in Puerto Rico.
The original and largest Oktoberfest is celebrated in Munich, Germany towards the end of September and the beginning of October; here in Puerto Rico you will find several Oktoberfest events where you can sample some great German beers, food and music.
So raise up your glasses and checkout where you can celebrate Oktoberfest in Puerto Rico:
Casa Bavaria Oktoberfest 2012 – Oct 4 – 21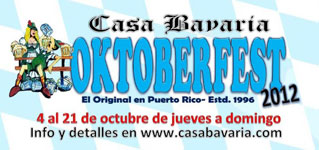 Casa Bavaria located in central mountain town of Morovis hosts its annual Oktoberfest from Oct 4 – 21. Along with great mountain views you will be able to enjoy imported German beers as well as local craft beers and of course traditional food and music.
Casa Bavaria is open Thurs – Sunday. Don't worry if you cannot make it during Oktoberfest as they serve great beers and traditional German and Puerto Rican dishes all year round.
Old Harbor Brewery, Old San Juan. Oct 4 – 21, 2012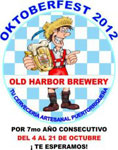 Old Harbor Brewery will be celebrating its 7th annual Oktoberfest from Oct 4 -21, 2012, featuring their very own Oktoberfest beer along with their regular locally brewed craft beers.
Open seven days a week there will be live music Thursday – Sunday during the festival
Palmas Station, Cataño. October 13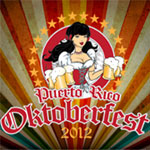 On October 13 Palmas Station in Cataño (just outside San Juan) will be hosting their own Puerto Rico Oktoberfest 2012. For one night only they will be showcasing around 80 different Germen beers on tap and bottled, as well as live music and traditional German dishes. Ticket price includes a half litre Glass Mug and unlimited samples of the various beers on offer.
The event runs from 5 – 11pm and costs $38 plus tax.
Puerto Rico Oktoberfest at the Convention Center. Oct 18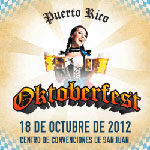 On October 18, the Puerto Rico Convention Center will be hosting their version of Oktoberfest with over 30 craft beers on display. There will also be local San Juan restaurants preparing German inspired dishes along with live music and cooking demonstrations by Chef Robert Trevino.
The event runs from 7 – 11pm with tickets available at prticket.com
If you know of any more Oktoberfest celebrations in Puerto Rico or you attend one of more of the above, let us know in the comments below…
Related Posts