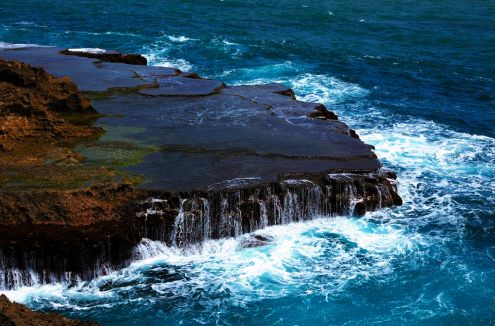 One of the best things to do when visiting a new country is to head out and explore. The following is a list of 18 things to do in Puerto Rico's East Coast
1. ATV and Horse Riding in the foothills of El Yunque Rainforest
At Hacienda Caraballi you can tour the foothills of El Yunque on horseback or All Terrain Vehicle.
Located at main Route 3 highway in Luquillo on Road 922, km 4
Open daily from 9:30am until 5:00pm.
787-889-5820 or 787-690-3781

2. AquaFari
Combine a kayak tour of the coastline with underwater snorkeling of the coastal reefs. AquaFari's of various durations are available.
Tours start from La Cabeza Bay and transportation can be arranged from San Juan
Kayaking Puerto Rico
Website: www.kayakingpuertorico.com
787-435-1665
3. Beltz Outlet Mall
The First Enclosed Factory Outlet Mall in Puerto Rico. Polo Ralph Lauren, Tommy Hilfiger, Nike, Liz Claiborne, Nautica and many more.
Junction of the new Route 66 and Hwy 3
Canovanas
Website: Beltz
4. Bio Bay at Fajardo – La Laguna Grande
Providing the moon phase is right, then a visit to one of the three Bio Bays in Puerto Rico is a must. The La Laguna Grande Bio Bay at Fajardo is the easiest bio bay to reach from Fajardo and kayak tours or electric boat tours are available.
Tours start from Las Croabas and most operators offer 2 tours per night (early evening and mid evening). Some will even arrange transportation from San Juan.
5. Bio Bay Evening Cruise to Vieques
If you would like to visit the Mosquito Bay Bio Bay on Vieques, you could take an evening cruise over to Vieques for dinner and a Bio Bay tour. Tours leave from Fajardo around 5pm and return 10pm (approximately)
East Wind Catermeran
Website: www.eastwindcats.com
6. Casa Roig Museum
66 Antonio Street
Humacao
Open weekdays and Sundays
787-852-8380

7. Children's Water Park (Parque Acuatico Infantil)
Located within the Punta Santiago National park – fun for all the kids
Hwy 3, Km 72.4
Humacao
Open Wednesday – Sunday, 9am- 5:30pm
8. El Yunque Rainforest
Miles of trails to walk through the lush green rainforest. See look-out towers, water falls and much more. The trails are well marked, but if you would prefer a guided tour, you can arrange a short hike with one of the rainforest rangers.
Rd 191
Rio Grande
Open daily 7:30am – 6pm
787-888-1810
Website: El Yunque
9. Fajardo Ferry Service
Looking for a day trip or even longer to Vieques or Culebra islands? The Fajardo Ferry Service offers several sailings each day to both islands. Ferry's can be very busy on weekends and holidays
787-863-0852
10. Fajardo Lighthouse (Cabo San Juan Lighthouse)
Built in 1882 the lighthouse is part of the La Cabeza Nature Reserve
Open Wednesday by appointment
787-722-5882
11. Food Kiosks near Luquillo Beach
Sample some traditional Puerto rican food at these roadside establishments.
Hwy 3, km 35.4
Luquillo
12. Hipodromo Camareo Horse Racing Track
Racing is all year long: Sunday, Monday, Wednesday, Friday and Saturday. First Race is at 3:00 AST
PR Road 3 Km. 15.3, Canóvanas (east of San Juan).
Website: www.hipodromocamarero.com
787-724-6060

13. Jesus T Pinero House Museum
Restored home honoring the first Puerto Rican to become Governor
Hwy 3, km 15.3
Canovanas
Open Wednesday – Sunday, 8:30am – 4:20pm
787-876-0262
14. Las Cabezas de San Juan
Nature reserve that takes in the Fajardo Lighthouse.
Open Wednesday – Sunday, tours by appointment
787-722-5882
15. Luquillo Beach (Balneario de Luquillo)
One of the best known beaches on mainland Puerto Rico – can become crowded on major holidays and summer weekends.
Open daily (closed Mondays & Tuesdays in winter)
Hwy 3
Luquillo
Open 8:30 am- 5:30pm
787-889-5871
16. Punta Santiago Beach
Hwy 3, Humacao
Open daily -closed Monday & Tuesday in winter
787-852-1660
17. Punta Tuna Lighthouse, Maunabo
Built in 1892, this active lighthouse was the last one to be inhabited on the island. The grounds are open to the public.
Open Wednesday – Sunday 9am – 4pm (except holidays)
787-861-0301
18. Seven Seas Beach
Rd 987 close to Las Cabezas Nature Reserve
Las Croabas
Fajardo
787-863-8180
Coqui note: During winter the public beaches are closed – this just means that the amenities at the beach are closed (changing facilities, lifeguards etc. The beach is still open)
If you have a favorite place that is not listed, please add it to the comments section at the end of the article
This is the fourth in a series of articles that will cover ideas for the various areas of Puerto Rico. To make sure you don't miss this series, why not obtain updates in your email or your RSS reader
Photo Resources: arturodonate, oscalito and oquendo