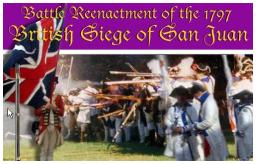 If you can not make the Feria Porta Caribe in Ponce this weekend; then what about the re-enactment of the 1797 Siege for San Juan? This weekend, the Regimiento Fijo de Puerto Rico will be turning back the clock to re-enact the Spanish defense of San Juan against the marauding British Army.
This is a two day event with activities taking place in and around Old San Juan. Activities will include representation of camp life with infantry, cavalry, artillery, navy and civilian life.

1797 Siege of San Juan Schedule:
Saturday April 26
Camp life at Casa Blanca in Old San Juan. 9:00am – 5:00pm
Sunday April 27
Camp life and battle reenactment at Parque Tercer Milenio in San Juan. 11:00am -4:00pm
If you happen to be around San Juan this weekend, then why not step back in time to 1797.
Check out the Regimiento Fijo de Puerto Rico website @ www.puertorico1797.com for more information