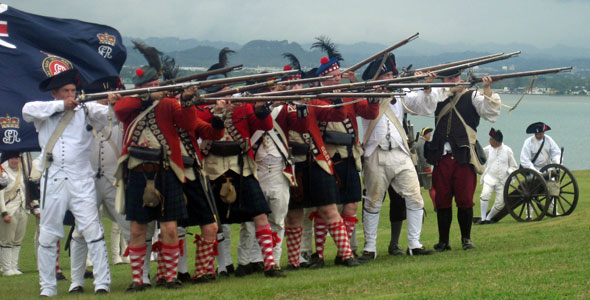 The original Battle of San Juan, took place in April 1797, you can enjoy a reenactment of the 1797 Battle of San Juan, on April 2 – May 1, 2011.
I went to last year's reenactment and had a really great time. It was cool to see the various period costumes, weapons and canons and to see how life was for the soldiers and civilians of that time.
History of the 1797 Battle of San Juan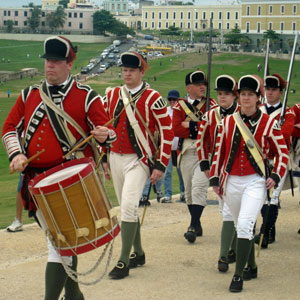 April 17, 1797 60 ships from the British Navy arrived off the northern coast of Puerto Rico. The following day around 6000 British and German troops landed on Puerto Rico soil and headed for San Juan. As the the troops marched west towards San Juan, several of the British ships positioned themselves near the entrance to San Juan Bay establishing a blockade
The British found the impressive fortifications of El Morro Fort impenetrable and were unable to take their fight into San Juan's protected port. The ships had to remain out of reach of the canons of El Morro.
With the lack of progress from the water, the British and German troops would spend almost 2 weeks trying to force their way into San Juan.
The Puerto Rican fortifications at Fort San Antonio and Fort San Gerónimo proved resilient and with the continuous reinforcements of Puerto Rican soldiers the British troops retreated and left the shores of Puerto Rico on May2, 1797
This year's reenactment takes place from April 28 – May 1 with the main events taking place on Saturday / Sunday, April 30, May 1.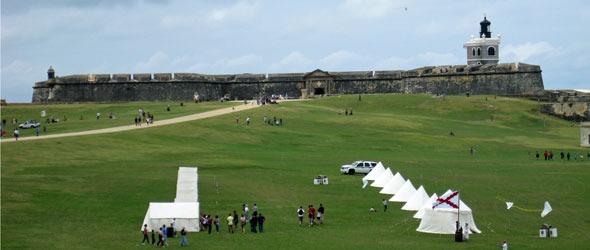 Highlights of the schedule include:
Thursday, Abril 28, 2011
5:30pm Cannonade and Remembrance Ceremony on El Morro Esplanade next to 1625 Monument
Friday, April 29th
7:00am Cannon fired on El Morro Esplanade
8:00am Regiments Muster in Ballajá Inner Plaza
9:00am – 5:00pm Encampment & Engineer's Pavilion Interpretation
9:00am Regiments march to El Morro Esplanade
9:30am – 11:0oam Drill
2:00pm – 5:00pm Demonstrations in El Morro or on esplanade
5:00pm Regiments march to Ballajá Barracks
9:00pm Night March from Plaza Colón to Plaza de Armas
9:00pm – 10:00pm Proclamation by Municipality of San Juan & Flag Presentation
9:30pm – 10:30pm Remembrace Ceremony at San Juan Cathedral (Tentative)
Satuday, Abril 30, 2011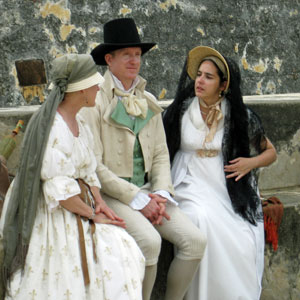 7:00am – Cannon fired on El Morro Esplanade
8:00am – Regiments Muster in Ballajá Inner Plaza
9:00am Regiments march to El Morro Esplanade
9:00am – 11:00am British Forces rehearse assaulting the fortifications
12:30pm – 1:30pm British Forces assault San Felipe del Morro
1:30pm – 3:00pm Cavalry Presentation
3:30pm – 4:30pm San Felipe del Morro fires its cannons and muskets
4:30pm – 6:00pm Lifting and transporting camp to San Cristobal Castle
Sunday, May 1, 2011
7:00am Cannon fired on El Morro Esplanade
8:00am Regiments Muster in Ballajá Inner Plaza
11:30am – 12:30pm Battle Reenactment at the Escambrón Battery
2:00pm – 3:00pm Battle Reenactment at El Escambrón Battery
5:00pm – 6:00pm Closing Ceremonies & Folkloric Dance at San Cristobal Fort
If you go, have fun and tell us about it in the comments below