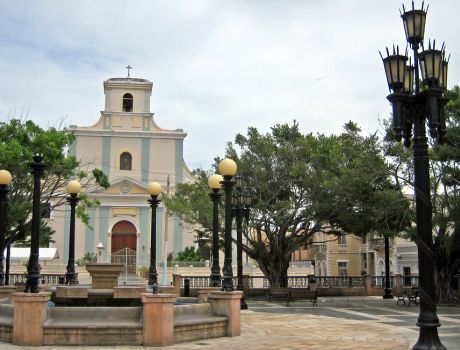 Heading west from San Juan here are 12 Things To Do In Puerto Rico's North Coast.
1. Balneario Punta Salinas
Public beach, just west of San Juan. A recent addition to the Blu Flag beaches of Puerto Rico
End of Rd. 868
Toa Baja
Open daily (closed Monday & Tuesdays in winter)
787-795-3325

2. Golf at Dorado
Dorado Del Mar
200 Urb. Dorado del Mar
787-796-3070
Hyatt Regency Cerromar Beach Golf Club (North and South Courses)
Designed by Robert Trent Jones Sr.
Route 693, Km. 12.7
787-796-8915
Soft spike policy.
Hyatt Dorado Beach Golf Club (East and West Courses)
Designed by Robert Trent Jones
Route 693, Km. 12.7
787-796-8961
3. Sardinera Beach
End of Road 697
Dorado
Open daily (closed Monday & Tuesdays in winter)
787-796-2830
4. Cerro Gordo Beach
Rd. 69o, km 7.1
Vega Alto
Open daily (closed Monday & Tuesdays in winter)
787-883-2730
5. Casa Alonso
A restored house in the middle of Vega Baja that gives a glimpse of life in days gone by
34 Betances Streer
Vega Baja
Open Tuesday – Saturday
787-855-1364
6. Los Tubos Beach
When conditions are right, this is a great place to go surfing
Road 686
Manati
7. Mar Chiquita
Spectacular offshore rock formations.
Rd. 685
Manati
8. Prime Outlets of Puerto Rico
Puerto Rico's second outlet mall with the usual suspects.
Barceloneta
9. Cambalache Forest
1000 acre tract that offers shady trails through the tropical karst vegetation.
Rd. 682, km 6.3
Barceloneta
Open Tuesday – Sunday
787-881-1004
10. Arecibo Lighthouse and Historic Park
The lighthouse is the center piece to the park that also includes the recreation of an Indian Villiage as well as large scale models of Columbus's ships.
Rd. 655
Barrio Isolete
Arecibo
Open daily
Website: www.arecibolighthouse.com
787-880-7540
11. Arecibo Observatory
This is the world's largest telescope (you've seen it in James Bond and the movie Contact). The visitor center gives a good over view of the telescope and the work that it does.
End of Rd. 625
Arecibo
Open Wednesday – Sunday and holidays
Website: www.naic.edu
787-878-2612
12. Camuy Cave Park
This is home to one of the largest cave systems in the hemisphere. When open visitors can tour the large Clara cave.
Coqui note: As of Oct 2008 the main Clara cave is closed as work is being performed to strengthen the cave. If you are considering a visit to the Camuy Cave park, you should phone the park and specifically ask if Clara cave is open. If the cave is closed you can still visit the park, but will not be able to enter the main caves.
787-898-3100
This is the fifth in a series of articles that will cover ideas for the various areas of Puerto Rico. To make sure you don't miss this series, why not obtain updates in your email or your RSS reader
Photo resources: oquendo